Yemen militants 'killed by drone strike'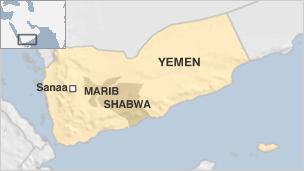 Military officials in Yemen say at least 10 al-Qaeda militants have been killed in two aerial attacks thought to be by US drones in the south of the country.
The attacks happened in Marib and Shabwa provinces, south-east of the capital, Sanaa, the officials said.
Neither the US nor Yemen acknowledge attacks by the unmanned drone aircraft.
Yemeni officials said government forces had killed another 15 insurgents in an offensive in southern Abyan province.
The first air strike killed six people in a vehicle in Shabwa, the defence ministry said.
The second reportedly killed four militants in two vehicles in the oil region of Marib.
Last Monday, Yemeni officials said an air strike in Shabwa province had killed al-Qaeda leader Fahd al-Quso, wanted in connection with the bombing in 2000 of the US warship USS Cole.
News of his death came a day before details emerged of a foiled plot by Yemeni militants to attack a US-bound aircraft using an "underwear bomb".
The US recently announced it had restarted military training with security forces in Yemen, which had been put on hold because of political unrest.
Earlier this week, FBI director Robert Mueller said Yemen-based al-Qaeda in the Arabian Peninsula (AQAP) posed the most serious terrorist threat facing the US.