Iranian rapper faces death threats for 'insulting' song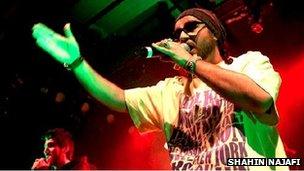 The Iranian rapper, Shahin Najafi, is in fear for his life following the release of a song called, Naqi.
The song title refers to the 10th Shia Imam, Ali Ibn Muhammad, also known as al-Naqi.
According to Shia tradition the Imam is the infallible spiritual leader of the Muslim community, directly descended from the Prophet Muhammad through his daughter Fatima and son-in-law Ali.
Most Shia believe that since the 10th Century the Imam has not been physically present on earth, and that the return of the 12th Imam, Muhammad al-Mahdi, will herald the final days of mankind.
Najafi's reference to 10th Imam in a satirical song has sparked an outcry among religious conservatives in Iran, a predominantly Shia state.
Grand Ayatollah Naser Makarem-Shirazi, a "sources of emulation" for many Shia Muslims, even issued a fatwa on Sunday declaring the singer an apostate.
This came after another Grand Ayatollah, Lotfollah Safi Golpaygani, issued a written statement in response to a question about the song, in which he wrote: "If they have insulted the imam, they are apostates."
More than 800 people in Iran have joined a Facebook campaign calling for Najafi to be executed, saying they are ready to assassinate him if necessary. Another religious site, Shia Online, has offered $100,000 reward for anyone who kills the rapper.
He lives in Germany but for security reasons he did not say from which city he was speaking.
The album's cover depicts the dome of the 8th Shia Imam, Reza, as a female breast, with a rainbow flag flying on it.
But Mr Najafi told BBC: "Islam is the most transparent religion when it comes to sexuality and it has always been open to such concepts."
Najafi is famous for the satirical style of his songs. They often tackle social and political issues in Iran.
In one of his hit songs called Mahdi, he says the last Imam will reappear to help the poor workers and hungry of Iran against their privileged, clerical rulers.
In his new song Najafi jokes that the Mahdi is in a deep sleep and other Imams should come and save the world.
The rapper admits that he sometimes crosses "red lines", but says he does so intentionally.
But he told the BBC: "Ayatollah [Safi Golpaygani's] decree does not refer to me because the song and lyrics bear no insult to Shia Imams."
Breaking religious taboos in Iran has been on rise in recent years and many people have created websites making jokes about Islamic values.
The most famous one is the Facebook campaign called "Reviving Imam Naqi".
It aims to "fight against superstition with satire", makes fun of traditions told about the Imam, and publishes stories about strange miracles attributed to him.
Some see Najafi's controversial song as part of the same campaign.
On the other hand, the Iranian government is trying hard to put an end to this trend.
A "cyber army" was even set up by the Revolutionary Guards in 2010 to combat "destructive" networks. It has since arrested dozens of bloggers and web designers. Some of them have been sentenced to death for creating anti-Islamic blogs.
Two years ago Mohsen Namjoo, the Iranian singer known as "Iran's Bob Dylan", was tried in absentia and found guilty for singing Quranic verses in an unorthodox manner.
Twenty-three years after Grand Ayatollah Ruhollah Khomeini, Iran's late Supreme Leader, issued a fatwa calling for Salman Rushdie to be killed for writing The Satanic Verses, some Iranians continue to do the same.
In 2006, the late Grand Ayatollah Mohammad Fazel Lankarani declared Rafiq Tagi, a journalist from Azerbaijan, an apostate for writing an article "against Islam". The marja al-taqlid urged "anyone with access to Tagi to kill him".
Six years later, Mr Tagi was stabbed seven times by unknown assailants. Before he succumbed to his wounds, he gave an interview accusing the Iranian authorities of the attack.
Human right activists have repeatedly called on Iran to respect freedom of speech and to put an end to threats of "death-by-decree".
The Iranian government says it is the victim of an anti-Islamic campaign directed from a "soft-war centre" in the United States, with the aim of attacking Iran's Islamic values and hence, its theocracy.
Related Internet Links
The BBC is not responsible for the content of external sites.