Yemen: Heavy clashes in Zinjibar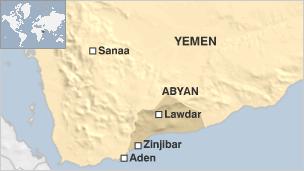 At least 16 al-Qaeda militants and six Yemeni soldiers have been killed in fierce fighting in the south of the county, military officials have said.
Ten of the militants died in one attack after an air raid by warplanes on their hideout, the officials said.
The attack took place in the coastal Shaqra area, east of Zinjibar, the provincial capital of Abyan.
On Saturday, Yemeni forces, backed by heavy artillery, launched an assault aimed at recapturing Zinjibar.
The city has been held by militants for a year.
Officials say clashes between the two sides in Zinjibar itself left six government troops dead on Monday.
Yemeni forces are receiving logistical and intelligence support from the United States in their attempt to combat militants in the south.
The Yemeni army also fired missiles at a moving vehicle on the outskirts of the town of Lawder, killing the six militants inside it, the officials said. The town, which is to the north east of Shaqra, was controlled by al-Qaeda last year. Its residents drove out the militants, who have since been trying to re-take it.
On Sunday, Washington's top counter-terrorism adviser, John Brennan, held talks in the capital, Sanaa, with Yemen's President Abdrabbuh Mansour Hadi.
The US recently announced it had restarted military training with security forces in Yemen, which had been put on hold because of political unrest.
Last week, FBI director Robert Mueller said Yemen-based al-Qaeda in the Arabian Peninsula (AQAP) posed the most serious terrorist threat facing the US.