Iran's women football fans dream of a return to the terraces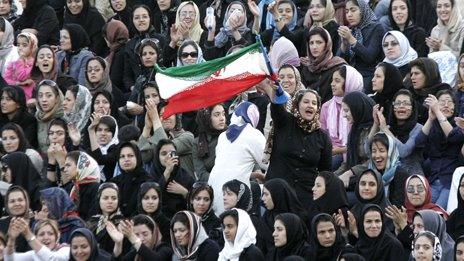 Women football fans in Iran are hoping to use the next major international championship in Tehran to return to the terraces.
They say the Asian Football Confederation (AFC) Under-16 Championship this September and October will give them an opportunity to end a long-standing ban that prevents women attending football matches because they are played by men wearing shorts.
Until now, conservatives and traditionalists have prevented women from attending matches, and as things stand they are most likely to oppose any change to the status quo.
Indeed, the prospect of men and women sitting next to each other in stadiums is expected to pit the traditionalists against those who favour a greater social role for women, including the government of President Mahmoud Ahmadinejad.
Restrictions on women attending football matches were imposed after the 1979 Islamic Revolution. Traditionalists, who exercise extensive political influence in Iran, say football matches are not appropriate for women to attend for a variety of reasons.
However, international football regulations demand that there should be no sex discrimination among spectators, and that if Iran wants to host international championships it has to respect the rules.
The Asian Football Confederation is aware of the problem. A senior director at the organization, Shin Mangil, has said he is expecting gender equality.
"So far as AFC is concerned, there should be no sex discrimination regarding the presence of men and women at stadiums," he added.
The authorities in Tehran have promised to accommodate the wishes of the AFC, and the head of the Football Federation of the Islamic Republic of Iran (FFIRI), Ali Kafshian, has said they will respect the regulations.
"We are acting according to AFC rules. All our efforts are directed at meeting their expectations," he said.
The issue has already sparked public debate. An editorial in the pro-reform daily Sharq welcomed Mr Kafshian's statement.
"The youth championships could create a great change in Iranian football," the editorial said. "They are an excellent opportunity."
Those in favour say the presence of women at football matches would reduce laddish behaviour and refine the atmosphere.
Iranian matches, particularly between the top teams, sometimes get out of hand with supporters attacking buses and public property.
On rare occasions women have been allowed to watch football from close quarters.
In the 2007 World Cup qualifiers, women were permitted into sports grounds and four years later "families and women" watched a match in the city of Isfahan.
But when in 2006, President Ahmadinejad asked the sporting regulator to "prepare the way for the presence of women at stadiums", conservative clerics reacted sharply, and half a dozen senior figures condemned the decision.
A comment by Grand Ayatollah Fazel Lankarani was possibly one of the sharpest.
"Women looking at a man's body, even if not for the sake of gratification, is inappropriate. Furthermore, Islam insists that men and women should not mix," he said.
Another Grand Ayatollah, Hoseyn Nuri-Hamedani, sarcastically said that the "honourable president" was expected to consult Islamic seminaries and scholars on such delicate matters.
In the intense debate that followed, Iran's Supreme Leader, Ayatollah Ali Khamenei, was forced to intervene in favour of the clerical establishment.
Iranian women are fond of football and this has been reflected in a number of motion pictures.
Director Jafar Panahi's 2006 film, Offside, tells the story of a group of young girls who dress up as boys to pass through stadium gates only to be detained, leading to unexpected adventures.
A more recent film, Shirin Was A Canary, is a social commentary in the form of a comedy-drama. It tells the story of a girl who is expelled from school for her love of the game.
Themes from both films resonate with the story of the movie, Bend It Like Beckham, in which a British girl of Indian descent is not allowed to play football by her parents but manages to overcome their resistance.
The conservative establishment in Iran, however, is not likely to concede easily. More challenges are expected.
BBC Monitoringselects and translates news from radio, television, press, news agencies and the internet from 150 countries in more than 70 languages. It is based in Caversham, UK, and has several bureaux abroad. For more reports from BBC Monitoring, click here