South Yemen air strikes 'kill 16' in Abyan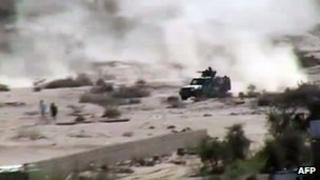 Yemeni troops have killed at least 16 suspected militants in air strikes in Abyan province, officials say.
Another 13 people, most of them militants, died in fighting elsewhere in Abyan province, reports say.
Government troops are engaged in a large-scale offensive against Islamist militants that control much of Abyan.
Separately, US President Barack Obama has issued an order allowing sanctions to be imposed on anyone seen as undermining the transition in Yemen.
The executive order targets "individuals and entities who threaten the peace, security, and stability of Yemen by disrupting the political transition", a White House statement said.
Al-Qaeda stronghold
The pre-emptive move is another sign of Washington's concerns about the gains made by al-Qaeda in Yemen during the political upheaval last year, says the BBC's Kim Ghattas in Washington.
Al-Qaeda militants have taken advantage of a year of upheaval, protests and breakdown of central government control to gain ground again in Yemen, and it is now considered to be the stronghold of al-Qaeda in the Arabian peninsula (AQAP).
US military specialists - a junior rank in the US army - are closely involved in the Yemeni government's campaign against militants, according to Yemeni officials and Western diplomats.
A senior local commander, Samir al-Fathani, was among those killed in Wednesday's air strike, which hit a farm 25 miles (40km) east of Lawdar, according to officials quoted by the Associated Press news agency.
It quoted witnesses describing plumes of smoke drifted over the site, which was littered with the charred wreckage of two destroyed vehicles.
Officials said the raid targeted a hideout of al-Qaeda fighters.
According to a military officer quoted by AFP, troops are advancing towards the south-east entrance to the provincial capital, Zinjibar, which was seized by militants in fighting last year.
It has been increasingly unstable since protests forced President Ali Abdullah Saleh from power in February.