UN nuclear chief to visit Iran for talks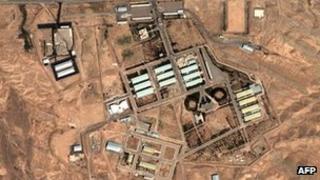 The head of the UN nuclear watchdog will travel to Iran on Sunday to "discuss issues of mutual interest".
Yukiya Amano of the International Atomic Energy Agency is scheduled to hold meetings with senior officials in Tehran on Monday.
The IAEA would like Iran to allow its inspectors to visit a site at Parchin.
The US and its allies accuse Iran of seeking to develop a nuclear bomb, but Iran insists its nuclear programme is peaceful.
Mr Amano's visit follows two days of talks in Vienna over Iran's nuclear activities.
Previous negotiations have ended in failure - in February Iran refused the IAEA's request to let inspectors visit Parchin, south of Tehran.
But this new trip is being seen as a sign that some progress might be possible.
The talks in Tehran will take place just two days before an international meeting in Baghdad, which will involve six world powers and Iran.
The UK, China, France, Russia, the United States and Germany are all due to take part in the Baghdad talks.
They are concerned that Iran is using its civilian nuclear programme to mask efforts to obtain nuclear weapons.
In November the IAEA released a report on Iran presenting new evidence suggesting that there is reason for concern, although Tehran dismissed the claims as fictitious.
Tension has increased in recent months and Israel, which feels threatened by the prospect of a nuclear-armed Iran, has hinted that if diplomacy fails it might consider launching a pre-emptive strike.
US President Barack Obama has said that all options remain open.
The UN, US, European Union, Canada, Japan and Australia are among those who have imposed sanctions on Iran to try to put pressure on the country to co-operate with the IAEA.
These measures target areas such as the sale of oil, arms deals, financial transactions and trade in technology that could be used for uranium enrichment.