Iran nuclear investigation accord 'expected soon'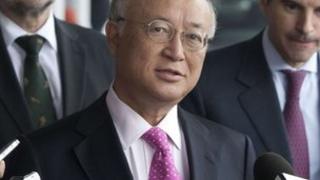 The head of the UN nuclear watchdog has said it is close to signing an accord with Iran after his talks in Tehran.
The International Atomic Energy Agency (IAEA) chief said the deal could increase Tehran's co-operation with IAEA investigations into its atomic activity.
Yukiya Amano said he expected a deal with Iran to be signed "quite soon".
The US and its allies accuse Iran of developing a nuclear bomb, but Tehran says its purpose is peaceful.
"[A] decision was made to conclude and sign the agreement... I can say it will be signed quite soon," Mr Amano said shortly after arriving back in Vienna, where the IAEA is based.
He said that after holding talks in the Iranian capital with the country's chief nuclear negotiator Saeed Jalili, "we understand each other's position better" though differences remained on "some details".
'New beginning'
As part of the talks, Mr Amano said the issue of access to the Parchin military site had been raised and that this would form part of the agreement.
Though no further details of the deal were immediately available, the IAEA is thought to be seeking access for its investigators to Iranian sites, nuclear scientists and documents to check intelligence suggesting Tehran is attempting to develop nuclear bombs, reports say.
News of the potential agreement comes ahead of a meeting between Iranian negotiators and representatives from six world powers - the US, Russia, China, the UK, France and Germany - in the Iraqi capital, Baghdad, for negotiations on Wednesday.
The six-power coalition will be led by European Union foreign policy chief Catherine Ashton.
Mr Jalili has said his country hopes for a new beginning when the talks start.