Egyptian police jailed in absentia over uprising deaths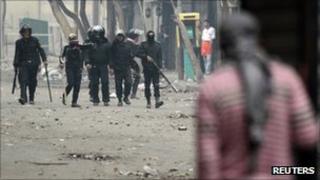 Five Egyptian police officers have been sentenced in absentia to 10 years in prison for their role in the deaths of protesters during the 2011 uprising.
Police are widely blamed for excesses during the uprising, which forced President Hosni Mubarak to step down, but this is the first such conviction.
Two other officers were given suspended sentences and 10 more were acquitted.
The sentencing comes a day before Egyptians vote in the first presidential poll since the uprising.
Last Thursday, 14 police officers were acquitted of similar offences, angering victims' families and activists.
The BBC's Yolande Knell in Cairo says police are both less feared and less respected than before, and morale in the force is low.
Witnesses said police fired live ammunition, rubber bullets and tear gas during the uprising, in which more than 850 people were killed.
Mr Mubarak himself is due on 2 June to find out the verdict in his trial on charges of ordering the killing of protesters. He denied the charges, but could face the death penalty if convicted.
His former Interior Minister, Habib al-Adly, and six senior policemen on trial with them also denied ordering the use of live rounds.
Chief prosecutor Mustafa Suleiman argued that it was impossible that Mr Mubarak had not ordered police to open fire on protesters.