Lebanon anti-Syrian Sunni cleric released on bail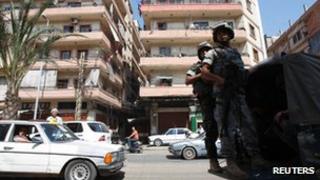 A Sunni cleric whose arrest sparked deadly clashes in the northern Lebanese city of Tripoli has been freed on bail.
Shadi al-Moulawi was arrested on 12 May on charges of "aiding a terrorist organisation".
However, his supporters say he was helping refugees fleeing violence in neighbouring Syria.
Sectarian tensions in Lebanon have been inflamed by the Syrian conflict. Tripoli's Sunni and Alawite communities clashed after Mr Moulawi's arrest.
Five people were killed and 20 injured in Tripoli in the violence that followed Mr Moulawi's detention.
Lebanon's Sunnis mostly back anti-government protesters in Syria, whereas among the country's Shia and Alawite communities, there is more support for Syria's President Bashar al-Assad, who is himself an Alawite.
On Sunday, violence over Syria reached the capital Beirut for the first time, with two people killed and 18 injured in clashes overnight between pro- and anti-Assad factions.
In the city's southern district of Tariq al-Jadideh, offices of a local pro-Assad leader came under attack by gunmen.
Those clashes were triggered by the shooting dead of two Sunni sheikhs linked to the anti-Syrian Future movement, headed by opposition leader Saad al-Hariri, at a Lebanese army checkpoint in the north on Sunday.
Deep divisions
Syria's majority Sunni Muslim community, which also dominates Tripoli, has been at the forefront of the revolt against the president and borne the brunt of the state's crackdown.
Syria maintained a military presence in Lebanon for 29 years, only withdrawing after a wave of protests in 2005.
Divisions over Syria are a defining issue in Lebanese politics, the BBC's Jim Muir in Beirut reports.
There is a real danger that the country would be torn apart if those differences were allowed to erupt freely onto the streets, our correspondent adds.