Yemen holds sombre national day after deadly bombing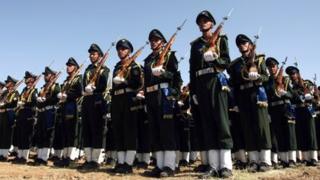 Yemen's national day parade has passed off without incident, but in a sombre atmosphere, a day after a bomber killed 96 soldiers in the capital, Sanaa.
President Abdrabbuh Mansour Hadi watched proceedings from behind bullet-proof glass amid intense security and threats of further militant violence.
Addressing the crowd, military chief Ali al-Ashwal said there would be no let up in the "war" on al-Qaeda.
Al-Qaeda's branch in Yemen said one of its members carried out the attack.
Mr Hadi was joined by military chiefs, leading government figures and foreign representatives at the ceremony at the Aviation Academy, but did not speak.
Only police and air force cadets participated and the ceremony was cut to one hour, with a scheduled fly-past cancelled. The original intention had been to hold a parade in a major square in the capital.
National Unity Day marks the reunification of north and south Yemen in 1990.
'Solidarity'
Gen Ashwal was the only official to deliver a speech, in which he said: "We will not let terrorism destroy our future and dreams.
"The barbaric attack on Sabin Square will not scare us and will not prevent us from going ahead with our war on these evil elements. Our war on them will not stop until we free our land."
Turkish Ambassador Fazli Corman told Reuters news agency everyone was relieved the ceremony had passed without incident.
"There was not a celebratory atmosphere, it was solemn. Not a single seat was left empty. All the foreign ambassadors were there; it was a strong message of solidarity on the part of the Yemeni government."
On Monday, Mr Hadi had told families of the bomb victims that the "war on terrorism will continue until it is uprooted and annihilated completely, regardless of the sacrifices".
The blast had torn through ranks of soldiers rehearsing for a military parade to celebrate National Unity Day. In addition to those killed, more than 200 people were injured.
Witnesses said the suicide bomber had been dressed in military uniform with a belt of explosives underneath.
Yemen-based al-Qaeda in the Arabian Peninsula admitted carrying out the attack, which it said targeted "the defence minister and other leaders of the US war on our people".
"Even if the defence minister [Muhammad Nasser Ahmed] and his aides escaped this operation, we will not tire," a statement posted on jihadist internet forums said.
The UN Security Council condemned the bombing "in the strongest terms", describing the attack as a "heinous act" and vowing to combat "all forms of terrorism".
President Hadi, who assumed power in February, has pledged to oust militants from Yemen's mostly lawless and restive southern and eastern provinces.
He took over from Ali Abdullah Saleh following months of pro-democracy protests and armed insurrection across the country.