Cairo voters excited by Egypt's landmark election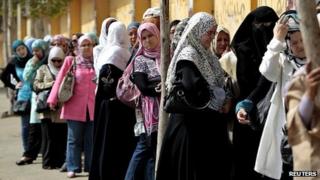 A young female executive in designer sunglasses stands alongside a housewife wearing a niqab, or full-face veil, outside the Sheikh Zayed High School in 6th October City.
This new community on the outskirts of Cairo is a mixed social group and voters' choices reflect that.
I find many who support the former air force commander and prime minister, Ahmed Shafiq and the previous Arab League head, Amr Moussa.
Yet graffiti on the school wall and cars that pass covered in posters, suggest significant local support for the moderate Islamist, Abdul Moneim Aboul Fotouh.
Voters stand patiently in the heat, although women with children, the sick and infirm get to jump the long queue.
'Excited'
"So far, so good. I've entered early," says Ghanim Ali, as she makes her way to the last section of the queue outside the polling station, with her two boys. "I am so excited, so happy, regardless of who is going to be the president."
"For the first time in Egyptian history I'm able to choose. I've studied all the political programmes."
As he joins the waiting voters, a middle-aged man, Saleh Khalil, is similarly enthusiastic despite the wait ahead and the lack of shade.
"What a beautiful day," he exclaims. "I feel freedom is coming."
"I feel comfortable to vote now," he adds. "Before people pushed you to vote for someone as you entered. Now everything is quiet. Each of us knows what he's going to do and that's it."
Inside the polling station, the atmosphere is calm and orderly.
The judge overseeing proceedings shows me a ballot paper with the faces, names and symbols of the 13 candidates who are officially running.
"Everything is going well, although there are big crowds. We opened on time at 08:00 and we'll go on until 20:00," the judge, Ibtisam Abdul Hamid, tells me.
"People come in, we check their ID and check they're not in the police or army, then we give them the paper," she explains. "We put ink on their finger when they vote."
'Close to God'
An hour's drive away, I head for the village of Awsim in the Giza governorate, passing farmers working in their fields of wheat, clover and vegetables.
Approaching the main roundabout, it is clear that voters here favour the main Islamist candidates.
A large orange banner for Mr Aboul Fotouh competes for attention with a green one for the Muslim Brotherhood candidate, Mohammed Mursi.
At the two schools converted into polling stations here - one for men and one for women voters - proceedings are going smoothly, with soldiers and police working together to maintain control.
A teacher, Ashraf Abdul Nabi, plans to vote for "the horse", referring to Mr Aboul Fotouh's logo. "He has a lot of interest in improving the education system and the health sector," he says.
"I have been persuading all of those around me to vote the same."
"I voted for Dr Mohammed Mursi after I read his renaissance programme thoroughly," another voter, Ashraf Abdu Ali tells me. "It focuses on developing all sectors including agriculture, health and education and gives a lot of attention to poverty."
Some voters here attended a recent Muslim Brotherhood presidential rally in Giza, but many others know the group because of its social programmes.
A local tells me that a few men standing by the women's voting station are the very members who recently handed out benzene gas cylinders during a shortage.
"I chose Mohammed Mursi for the sake of my children, because he is close to God. The Brotherhood is respected," says Magda Hanif.
'Difficult but ok'
When I turn back to the city centre of Cairo, the traffic is starting to build up as employees from Egypt's bloated public sector clock off in the middle of the afternoon.
The queues outside a school in the Garden City area are growing fast.
Fatima, 22, came with her mother and waited for two hours. She shows me how she brought a fold-up stool - a lesson she learnt from the parliamentary vote, which also attracted a high turnout.
"It was difficult but it's OK, we're electing our president," she says. "I chose Aboul Fotouh because he's not feloul, [a remnant of the old regime]. We want a fresh face."
Outside I find a man with a different rationale. He is voting for Mr Shafiq because he wants someone "powerful".
"I ask 'Who is ready now? Who will go to the palace and deal with our problems.' Someone without experience will be crying for help," he suggests.
For the first time Egyptians have real choice, but who they will ultimately choose as their new president is still unclear.