Egypt Muslim Brotherhood seeks presidential poll allies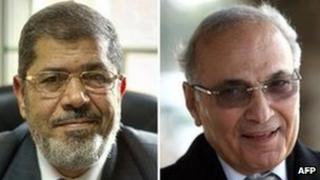 Egypt's Muslim Brotherhood has called for talks to "save" the uprising ahead of a presidential election run-off.
The group says its candidate, Mohammed Mursi, won most votes in this week's first round, with some 25% of the vote.
Partial figures suggest he will face Ahmed Shafiq, ex-President Mubarak's last PM in a second round next month.
A spokesman for the Muslim Brotherhood said Egypt would be "in danger" if Mr Shafiq won, and the group would reach out to other candidates to defeat him.
Mr Mursi has already invited other presidential candidates and party leaders to hold talks on Saturday, reports say.
Early counts in the country's first free presidential elections put Mr Shafiq at roughly 24%.
The nationalist Hamdin Sabbahi, a fiery opponent of the Mubarak regime who became the choice of many of those supporting the revolution, appears to be in third place.
More than 11,000 out of 13,000 polling stations have declared results. However, partial results are subject to recounts and final results are due on 29 May.
No candidate appears close to reaching the 50% threshold necessary for an outright victory. The run-off is due on 16 and 17 June.
Polarised battle
Mr Mursi and Mr Shafiq represent very different strands of Egyptian society.
Mr Mursi is seen as belonging to a popular strand of political Islam that was excluded from the political process for many years under Hosni Mubarak.
Mr Shafiq, who served briefly as Mr Mubarak's prime minister, is regarded by many as a creature of the old secular regime.
Analysts say he drew his support from people fearful of an Islamist takeover, and those exhausted by the upheavals of the past 16 months.
The BBC's Jon Leyne in Cairo says the two old power centres in Egyptian politics - the army and the Brotherhood - will go head-to-head in what could be a very polarised battle.
For many Egyptians it is not an ideal choice, but it seems the two candidates closest to the revolutionaries of Tahrir Square - Mr Sabbahi and former Arab League chief Amr Moussa - split that vote, our correspondent adds.
Mr Moussa appears to have come fifth - behind independent Islamist Abdul Moneim Aboul Fotouh, who is in fourth place according to most counts.
Landmark poll
About 50 million people were eligible to vote in the polls, in which 13 candidates are vying for the presidency.
It was the country's first freely contested presidential election in its history, and observers said it had been conducted peacefully.
US Secretary of State Hillary Clinton congratulated Egypt on its "historic" election and said Washington looked "forward to working with Egypt's democratically elected government," according to a statement released by her spokeswoman.
Turnout appeared to vary across the country on Thursday, the second day of voting.
In Cairo, there were long queues at some polling stations but elsewhere, such as Alexandria and Suez, there were reports of slow voting.
Egypt's election commission estimated that about 50% of eligible voters had participated, reported official news agency Mena.
The military body that assumed presidential power in February 2011 - the Supreme Council of the Armed Forces (Scaf) - has promised a fair vote and civilian rule.
Until a new constitution is approved it is unclear what powers the president will have, prompting fears of friction with a military which seems determined to retain its powerful position.