Suicide car bomber kills 12 in northern Yemen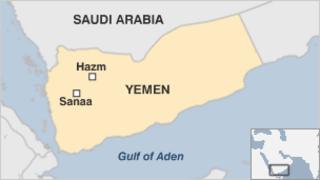 A suicide car bomber has killed at least 12 people in Yemen's northern town controlled by Shia rebels, officials say.
The attacker rammed his vehicle into a school in Hazm, where Houthi rebels had gathered for Friday prayers.
The officials say that a woman and three children were among the victims.
Dozens of people have died in northern Yemen in sectarian clashes between Shias and Sunni Salafists since late last year.
No group has so far claimed responsibility for the attack.
In a separate attack on Friday, a suicide bomber tried to target a Houthi protest march in the northern province of Saada, security officials say.
They say the attacker killed only himself.
Earlier this week, more than 90 Yemeni government troops were killed in a suicide bomb blast during a military parade rehearsal in the capital Sanaa. Al-Qaeda later claimed responsibility for the attack.
In February, President Ali Abdullah Saleh stepped down in response to months of protests that paralysed Yemen's political system.
Islamist militants have taken advantage of the upheaval to seize parts of the southern province of Abyan, now considered a stronghold of al-Qaeda in the Arabian peninsula (AQAP).
Instability has left the country facing a hunger catastrophe, with nearly half of people without enough food, aid groups have warned recently.