Bahrain bails human rights activist Nabeel Rajab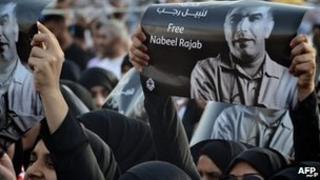 Prominent Bahraini human rights activist Nabeel Rajab has been released on bail, a government spokesman says.
Mr Rajab was arrested on 5 May at Manama airport on his return from the Lebanese capital, Beirut.
He is charged with inciting illegal rallies using social networking sites and defaming Bahrain's security forces.
Since Febrary 2011, Bahrain's government and Sunni ruling royal family have faced fierce opposition from mainly Shia activists.
Bahraini security forces have clashed with protesters, and rights groups have condemned the arrest of other activists such as Abdul al-Khawajah, who has been on hunger strike in jail for the past three months.
With 140,000 Twitter followers, Mr Rajab is a high-profile user of the micro-blogging website and a vocal critic of Bahrain's ruler, King Hamad al-Khalifa.
His lawyer Mohammed al-Jishi told the AFP news agency that he was ordered to pay 300 Bahraini dinars ($796) and still faces a travel ban.
A Shia Muslim and head of the Bahrain Centre for Human Rights, Mr Rajab last appeared in court on 16 May.