Egypt poll: Islamist Mursi and ex-PM Shafiq in run-off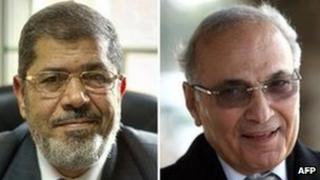 An Islamist candidate and a Hosni Mubarak-era politician will contest a presidential run-off in June, Egypt's election commission has confirmed.
Announcing the final results of the first round, it said the run-off would pit the Muslim Brotherhood's Mohammed Mursi against former PM Ahmed Shafiq.
Two of the defeated candidates earlier demanded a recount, citing violations. But the commission dismissed the claim.
Last week's voting was Egypt's first freely contested presidential election.
Observers say it was held peacefully.
Difficult choice
On Monday, the electoral commission head, Farouq Sultan, said that Mr Mursi and Mr Shafiq finished as the top two candidates. Mr Mursi won 5.8 million votes, while Mr Shafiq secured 5.5 million.
Mr Sultan said: "No candidate won an outright majority, so according to Article 40 of the presidential election law, there will be a run-off between Mursi and Shafiq."
The commission said turnout in the first round on 23-24 May was 46%.
This is despite the long queues during the two days of voting, the BBC's Jon Leyne in Cairo reports.
So, less than half of all eligible Egyptians went to the polls, and less than half of those who did vote chose the two candidates who would now go to the final round on 16-17 June, our correspondent says.
He adds that many Egyptians who do not support either the Islamists or the old regime will now face a difficult choice.
Earlier, Hamdin Sabbahi, the candidate from the leftist al-Karamah party who finished third, claimed that many members of the army and police - who are banned from casting their ballots - had voted.
But his claim was rejected by the election commission. It acknowledged that there were some "shortcomings", but said they had not affected the result.
Another defeated candidate, former Brotherhood member Abdul Moneim Aboul Fotouh, also unsuccessfully filed an appeal with the commission, asking for the official results to be delayed until an investigation into all reported violations.
About 50 million people were eligible to vote in the polls, in which 13 candidates were vying for the presidency.
The vote was hailed as a historic achievement by international observers.
Former US President Jimmy Carter, who led a delegation of election observers, said in spite of some violations the polls had been "encouraging".
The military body that assumed presidential power in February 2011 - the Supreme Council of the Armed Forces (Scaf) - has promised a fair vote and civilian rule.
Until a new constitution is approved, it is unclear what powers the president will have, prompting fears of friction with a military which seems determined to retain its powerful position.