Egypt candidates hope to woo children of the revolution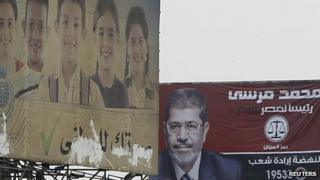 The pavement alongside a newspaper stall just off the edge of Tahrir Square has become an informal discussion place for Egyptians as they reflect on the latest political developments.
Official results of the first round of the presidential elections have shocked many. Particularly those who gathered here during last year's popular uprising.
Muslim Brotherhood candidate Mohammed Mursi and former Prime Minister Ahmed Shafiq are through to the run-off.
They took 24.4% and 23.3% of the vote respectively. Voters now face a stark choice between a figure from the old Mubarak order and its old Islamist adversary when they go to the polls again on 16 and 17 June.
"This was so unexpected," says Shehab Mohammed, a young former protester, as he looks across to the revolutionary graffiti on an adjacent wall.
"This shows that over the past year we have been unable to limit support of the Brotherhood and the 'falul' ['remnants' of the former regime]," he adds.
"I am very disappointed," says student Islam Abdul Rahman.
"Now we have to choose between someone who ultimately took the opposite position to the revolution, and the Muslim Brotherhood candidate who doesn't reflect the ideas and ambitions of the revolutionary youth."
Among the passers-by are supporters of Mr Mursi and Mr Shafiq who are keen to explain their appeal.
In next month's vote, Mr Mursi can again count on his disciplined and committed organisation to campaign for him.
Voters like Sayyid, from the poor area of Imbaba, are convinced by its Islamist project. "The Brotherhood has been repressed for 80 years. It has a good programme for Egypt and it is a strong institution that will be able to implement it," he tells me.
Mr Shafiq's supporters prioritise stability and fear an Islamist takeover.
"He is the best man for this coming period. He will bring security and organisation," says office worker Mohammed Sagheer.
A middle-aged woman, Iman Hamdi, wears the Islamic headscarf but has concerns about what a government led by the Brotherhood could mean.
"I want an Islamic state but one representing the real Islam. The Islamist groups have their own agendas," she says.
The challenge now for both remaining presidential candidates will be reaching out to those Egyptians who did not back them in the first round of voting.
Revolutionary credentials
Combined, the more reformist, independent candidates, Hamdeen Sabbahi and Abdul Moneim Aboul Fotouh won more votes than either man, a total of 37.6%.
Mr Sabbahi, a hardline leftist, surprised many by winning the two biggest cities, Cairo and Alexandria. Mr Aboul Fotouh, a former senior Brotherhood member, was able to reach out to ultra-conservative Salafi Muslims as well as some liberals and socialists.
Both had strong revolutionary credentials.
"The people voted for the revolution and to win their support both Mursi and Shafiq have to convince them that they are pro-revolution," says Omar Ashour, Director of Middle East Studies at Exeter University and a visiting scholar at the Brookings Doha Centre.
In their first news conferences on Saturday, the candidates embraced the task.
"The revolution, which you triggered, has been hijacked and I'm obliged to bring its outcome back to your hands," said Mr Shafiq, attempting to address young Egyptians in particular.
"We are going to start a new era," said the ally of the ousted president and former air force commander. "There is no option to reproduce the old regime."
Later, Mr Mursi, a long-time Brotherhood leader, said he was confident that the final election results would "serve the revolution and the interests of the Egyptian people". "As a president I will be the president of all Egyptians," he promised.
So far neither man has been endorsed by the main runners-up. Yet all failed in their attempts to suspend the election over accusations of irregularities.
Brotherhood best chance
Ultimately, Mr Ashour believes that the Muslim Brotherhood has the best chance of winning over the emerging middle ground in Egyptian politics.
"Shafiq has a severe credibility crisis," he says. "If he can become more inclusive, I think Mursi will probably come out the winner - assuming there is no rigging."
He expects Mr Mursi to name a non-Islamist vice-president. He says he could also promise to select a prime minister from outside the Brotherhood and offer concessions to guarantee a strong representation of non-Islamists in the assembly with the task of drafting Egypt's new constitution.
Support for the Brotherhood has dropped since last year's legislative elections, mainly because of disappointment at the performance of its political wing in the new parliament.
As they come around to the idea of next month's vote, some revolutionary groups have indicated a willingness to enter into dialogue with Mr Mursi's campaign.
However a significant number of Egyptians still feel unable to support either candidate.
Close to Tahrir Square, one angry man attracts a crowd around him as he raises his voice to express his view.
"I am going to boycott," he declares. "It's not safe to be with the Brotherhood, or with the snake."