Israel weighs 'unilateral move'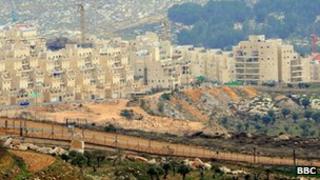 Israel's Defence Minister, Ehud Barak, has said it might consider a "unilateral move" if peace negotiations with the Palestinian Authority fail.
Mr Barak said that Israel's newly expanded governing coalition had to "lead a diplomatic process" in search of a permanent peace deal.
"We are on borrowed time", he warned.
Negotiations on a two-state solution stalled in late 2010 following a dispute over Jewish settlement construction in the occupied West Bank.
Last month, Palestinian Authority President Mahmoud Abbas demanded that Israel freeze all settlement construction, and accept the ceasefire lines which existed before the 1967 Middle East war as the basis for the borders of a future Palestine, with mutually agreed modifications, before he would return to direct peace talks.
Israeli Prime Minister Benjamin Netanyahu has so far refused to freeze settlement construction in East Jerusalem. Palestinians want the area for their future capital, but Israel insists the city cannot be divided.
'Paying the price'
In a speech at Tel Aviv University's Institute for National Security Studies on Wednesday, Mr Barak said the new Israeli government should consider all options if final-status negotiations with the Palestinian Authority were to fail.
"We are a coalition of 94 [Members of the Knesset]; this is the time to lead a diplomatic process," he said, referring to the number of seats the coalition has had in Israel's parliament since the opposition Kadima party was persuaded to join on 8 May.
"But if it isn't possible to reach a permanent agreement with the Palestinians, we must consider an interim arrangement or even a unilateral move."
"We are on borrowed time. We will reach a wall, and we'll pay the price. People who are now in a coma will then ask how we didn't see [this coming]," he added.
Correspondents say Mr Barak's proposal came as a surprise, because Mr Netanyahu resigned from a previous government in protest at the unilateral withdrawal of Israeli troops and settlers from the Gaza Strip in 2005.
The withdrawal is considered a failure by many Israelis because two years later the Islamist militant group Hamas, whose founding document commits it to the destruction of Israel, ousted the PA and President Abbas's Fatah movement from the Gaza Strip.
Hamas had won parliamentary elections in 2006 and had formed a unity government with Mr Abbas' party.
Responding to Mr Barak's comments, an adviser to Mr Abbas said any Israeli unilateral moves in the West Bank and East Jerusalem would "lead to the formation of a Palestinian state in temporary borders, to which we object".
"This policy will lead to the conflict's continuation and not to a solution, burying the two-state solution," Nabil Abu Rudeina told the Israeli newspaper Haaretz, adding that the PA was committed to "a final agreement in which a Palestinian state will be formed with Jerusalem as its capital".
"Without Jerusalem, we won't agree to anything," he added.