Mubarak's hometown in search of stability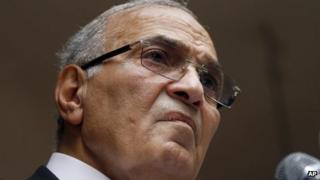 There is not much sign, in the village of Kafr Meselha, that this is the birthplace of an Egyptian president.
On the wall of what used to be the Hosni Mubarak sports club, a huge Egyptian flag has been hung to hide a mural - obscuring a picture of the former president made from thousands of mosaic tiles.
His old primary school still stands. It is the same building that he attended in the years before World War II, with what looks suspiciously like the same battered old desks he may have sat behind.
The village itself has grown from a small agricultural community to a town of around 10,000 people, an ugly sprawl of half-finished buildings, no different from thousands of others across Egypt's Nile Delta.
You won't find many of the local people coming forward to speak up for their former president.
"I am not proud Hosni Mubarak is from here. He didn't do anything for Kafr Meselha," said Muhamad Omar, a young professional who works at a nearby hospital.
"He didn't give me my opinion to choose him or to choose anyone in Egypt's by-elections or anything. He only chose what he wanted. He didn't give us our rights. We suffered too much. We are not a poor people. We have got a lot of money for our country and he didn't give it to us."
"We used to have goodwill toward President Mubarak, but the situation was getting worse day after day. He was getting worse day by day. And so people's demands increased. That's why the revolution happened," explained another villager, Magdy Rady.
'Bred hatred'
Mona Makram-Ebeid, of the American University in Cairo, who is a member of the council that advises Egypt's military rulers, watched as Hosni Mubarak increasingly antagonised his own people.
"He was impervious to the feelings of the people. And he seemed to look down on them, to look down on their aspirations, to look down on their hopes," she told me.
"He was surrounded by mediocrity and he always gave preference to those in whom he could guarantee loyalty and not necessarily merit... It was a great kind of cronyism that you had which bred, of course, corruption, which bred hatred towards his whole regime."
Yet appearances in this village can be deceptive. In the first round of the presidential election last week, the candidate closest to Hosni Mubarak topped the poll.
Like Hosni Mubarak, Ahmed Shafiq is a former general, a former head of the airforce, and is thought to have the backing of Egypt's powerful military.
On the day I visited the village, his poster was hanging high over the main street. A loudspeaker van was touring the streets, urging voters to give him their support.
It seems that the machine built up by the former ruling party, the NDP, is still in place, with its patronage and influence. Opponents claim that vote-buying is rife. Yet there is more to this than a simple return to the bad old ways.
'More awareness'
Villagers here have been suffering badly, as Egypt has drifted, almost without a government, in the year-and-a-half since President Mubarak was ousted.
"After the revolution, there's no stability in the country, no security. The economy is collapsing. The price of food is very high. People cannot survive," Hussein Abd el-Sattar Yunes, a former government employee said.
He did not say as much, but it is Egyptians like him who are turning to Ahmed Shafiq.
Many young activists believe that the regime of Hosni Mubarak is about to be recreated.
But it is not as simple as that. Egyptians have not just deposed a president, they have overcome a culture of fear.
"Things have changed now. The people have more awareness, they talk about politics. In the past people were afraid to talk, they were afraid of being arrested," said another of the villagers, Islam Adly.
However much Egyptians might complain about the state of the nation, they are loving that freedom of speech, enjoying the dignity of being allowed to vote for their president.
Whatever happens to Hosni Mubarak, and whoever succeeds him, Egyptians will not give up those new rights without a fight.