Egyptians protest against Mubarak verdict in Cairo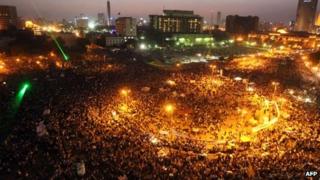 Thousands of Egyptians are continuing to protest against the verdicts in the trial of ex-President Hosni Mubarak.
Two runners-up in the presidential election first round joined the demonstration in Cairo's Tahrir Square.
Mr Mubarak and his interior minister, Habib al-Adly, were sentenced to life in prison for not stopping the killing of protesters in last year's uprising.
But six security chiefs were acquitted. Mr Mubarak and his two sons were also cleared of separate corruption charges.
Thousands of protesters are staying in Tahrir Square overnight, urging a renewal of the revolution that toppled Mr Mubarak last year.
"We are now at a crossroad. It's either the revolution or back to the Mubarak regime," Abdellah Mahmoud, one of the demonstrators, was quoted as saying by the Associated Press.
Huge crowds took to the streets on Saturday and Sunday to express their outrage that no-one had been found guilty of ordering police to open fire in January and February 2011, in attacks which left more than 850 people dead.
Many people were also angry that Mr Mubarak did not receive the death penalty, as the prosecution had demanded. The 84-year-old and his sons were acquitted of corruption under the statute of limitations.
Appeals
The prosecutor-general has said he will appeal against all the verdicts, but the process is expected to take several weeks. Mr Mubarak's defence team has also said it will appeal.
"We reject the trial. It's a big farce," Hisham Khalifa, one of the protesters in Tahrir Square on Tuesday, told the AFP news agency.
The demonstration was called by youth groups who led the uprising, including the Coalition of Revolution Youth and the Maspero Youth Union. It was also backed by the Muslim Brotherhood.
The third- and fourth-placed candidates in last month's presidential election first round, Hamdin Sabbahi and Abdul Moneim Aboul Fotouh, also expressed their support by leading marches to Tahrir Square.
On Monday, the two men issued a joint statement with the Muslim Brotherhood's candidate for the presidency, Mohammed Mursi, calling for further protests until the ruling military council enforces legislation disqualifying the other remaining candidate, Ahmed Shafiq, a former air force chief who was Mr Mubarak's last prime minister.
The Muslim Brotherhood said separately that it wanted to bring "to justice those accused of conniving with the defendants by hiding evidence, including the prime minister and minister of interior during that period, who are now seeking to abort the revolution".
Before the election's first round, parliament passed legislation barring top Mubarak-era officials from seeking the presidency, and the ruling generals signed it.
But the Higher Presidential Election Commission referred the matter to the Supreme Constitutional Court.