Egypt secret police files shine light on murky world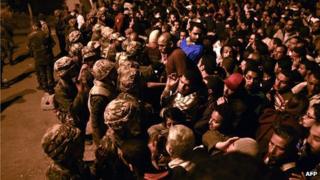 Egypt's secret police were notorious for their methods of surveillance. When Egypt's state security buildings were stormed in March 2011, thousands of secret files gathered under Hosni Mubarak's rule were taken into custody by the military. A few are now turning up in some unusual places.
It was known as Egypt's Bastille Day, or "Stasi moment".
Protesters had heard rumours that the secret police files were being destroyed and they stormed the buildings to rescue them.
They raced through the labyrinthine corridors of the compounds, screaming with the excitement of being in places that were said not to exist.
Some discovered meeting rooms with gold-plated telephones and marble floors; others found the underground cells.
Mobile phone footage from that night shows one man demonstrates how a torture machine was used on him.
"It's like a barbecue," he says. "They hang you on it and the electric current runs through it."
The protesters soon found the files - many of them already destroyed. They waded through white strands of paper, still warm from the shredder.
Some formed a human chain around the files that had not yet been destroyed, only releasing them into the army's custody once a delegation of judges arrived.
They were told that a formal investigation into these files would begin, but one year later nothing has been announced and the secret files are still under the control of the military.
But not all of them.
Finding his file
Mohammed Abdul Hakim Diab, a 71-year-old journalist, entered the state security buildings in 6th of October city, 30km (20 miles) outside of Cairo.
He had a personal reason for going there. Forty years ago, as the leader of a youth socialist organization, he found out that he was under surveillance.
He left Egypt in self-imposed exile, working as a journalist in Britain, only returning to Egypt after President Hosni Mubarak stepped down.
Mr Diab found something extraordinary at the compound - his own secret police file.
"As I walked into the compound, someone recognised me and told me they'd found a file with my name on," he says. "It was unbelievable. I left the compound quickly, made copies and then later handed over my files to the military."
He took me to his house to show me the file, a blue folder with 25 sheets of paper inside.
"The smudges are from the burn marks where they tried to destroy them," he says. "They write about my family. About my brother and my sister and what kind of degrees they got."
He takes out a file dated 21 November 1981. "They say here that after President Sadat's assassination my family was very joyful. This is not true."
But there are other, more serious allegations.
"In this file it says that I went to South Lebanon and led a military group. I never went to South Lebanon in my life. I never even knew how to shoot a gun."
"In another, it says our neighbours told them that our family was trying to bring down the regime."
He believes these files show how weak the government was.
"It shows how afraid they were of words," he says. "If they were strong, they would not have needed to monitor us and fabricate these lies."
'Dawn visitors'
The files are a small insight into the murky world of Egypt's secret police.
They would carry out background checks on teachers, judges and senior civil servants.
Known by many as the dawn visitors, they would often raid homes in the early hours with no warrant. They were responsible for mass arrests and detention without charge.
"Egypt became a classic police state where the security apparatus was running every aspect of our lives," says Hossam Bahgat from the Egyptian Initiative for Personal Rights.
One of the reasons activists are calling for the files to be released is to aid prosecutions.
The UN expressed concern about "widespread evidence of torture" in state security premises, but prosecutions of state security officials were rare.
"State security knew they could never be prosecuted and even in the highly unlikely chance of prosecution they would be acquitted," says Mr Baghat.
Neither the ruling military council nor the interior ministry agreed to speak about the files. But Sameh Saif al-Yazal, a retired general who worked in military intelligence under President Mubarak, says he believes the files will be released.
"I believe that when the investigators finish reading the documents, they will file some cases against people in the coming year," he says.
But the former deputy head of the secret police, Fouad Allam, does not believe the files will be released. "They don't have a culture of opening up to others," he says.
In a surprise move, Mr Allam is now calling for the files to be released.
"This has been part of Egyptian history," he says. "It's important for Egyptians to learn about their history to avoid making mistakes in the future."
'They need to be exposed'
With the release of these files looking unlikely, some activists are now taking matters into their own hands.
On the same night that Mr Diab found his file, Hossam al-Hamalaway, an activist, was looking for files in the secret police compound in Nasr City.
It was an emotional experience as he had been interrogated under torture before.
"Over four days, I was blindfolded, stripped naked and continuously beaten," he says.
He managed to sneak two DVDs out of the compound under his jumper. He says they contained photos of around a dozen police officers which he has been uploading to his blog, Piggipedia.
"It's not only them monitoring us, we're monitoring them," he says. "They're torturers, sadists and criminals and they need to be exposed."
He believes these files are crucial for prosecutions.
But what if the files are never released?
"It would be a message to future security personnel that you can do what you want and never be held accountable. It would mean the revolution has failed."
Few now believe that the secret police files will ever be released.
But while the documents can be withheld, Egypt's secret history is not one that those who lived through it are ever likely to forget.
Egypt's Secret Police Files was broadcast by the BBC World Service as part of the Assignment documentary series. Listen to the documentary here. More from Assignment.