'No progress' at Iran nuclear talks - UN watchdog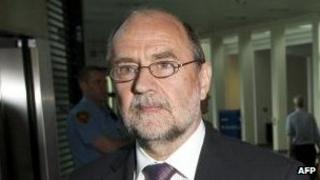 Talks on Iran's nuclear programme have ended with "no progress", according to the International Atomic Energy Agency (IAEA), the UN's nuclear watchdog.
The IAEA had been trying to get access to sites inside Iran, including one at Parchin suspected of being used for experiments related to nuclear weapons.
The lack of progress at the talks in Vienna was "disappointing", the IAEA's chief inspector Herman Nackaerts said.
Iran denies its nuclear programme has any military aspect.
Iran's ambassador to the IAEA, Ali Ashghar Soltanieh, said his country would continue to seek to allay fears about the programme.
"We are ready to remove all ambiguities and prove to the world that our activities are exclusively for peaceful purposes and none of these allegations [of developing a bomb] are true," he said, according to the French news agency AFP.
More talks between Iran and six powers - Britain, the US, China, Russia, France and Germany - are due to be held in Moscow in 10 days' time.
Diplomats say they want Iran to suspend all uranium enrichment and to give up its stockpile of enriched uranium, the BBC's James Reynolds reports.
Iran has suggested that it has no intention of doing either, he adds.
Last November, an IAEA report claimed Iran had "carried out activities relevant to the development of a nuclear device".
The UN agency, which is based in the Austrian capital, says that since November it has obtained more information relating to possible high-explosive tests at Parchin, which could be relevant to nuclear warheads.