Yemen army regains crucial towns Jaar and Zinjibar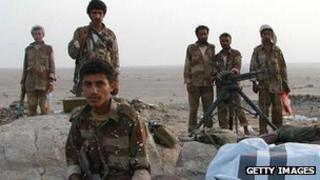 Two towns in Yemen formerly controlled by al-Qaeda-linked militants have been retaken by the country's army, military officials have said.
Residents of the strategic and southern town of Jaar and the regional capital Zinjibar were reported to be celebrating the militants' departure.
There were conflicting reports about how the towns were taken. Officials said Jaar was seized after fighting.
But some witnesses told journalists that the militants fled in the night.
Jaar, in the the southern province of Abyan, had been under the control of Ansar al-Sharia, an off-shoot of al-Qaeda in the Arabian Peninsula, for more than a year.
During 2011, the country was also the scene of numerous anti-government protests and separatist unrest.
In May 2012, the Yemeni Army, backed by the United States, began an offensive to retake the towns.
According to Reuters, the fight to regain control of Jaar led to the deaths of at least 24 people, the majority of whom were militants.
The town has a population of more than 100,000 people.
Residents were quoted as saying militants left behind flyers apologising for any harm that had been brought to Jaar and its residents and asking for forgiveness.
According to the news agency, a military official said that the army had re-opened a key road between Aden and Jaar, which had been closed for more than a year.
Maj-Gen Salem Qatan, commander of the southern region, told Reuters: "The cities of Zinjibar and Jaar have been completely cleansed."
Yemen is the Arab world's most impoverished country, and has the most serious water scarcity problems in the world.
It is estimated about 350,000 people have been displaced by conflict in the north.
In 2011, anti-government protests led to the resignation of President Ali Abdullah Saleh, with power handed to the former Vice-President Abdrabbuh Mansour Hadi.
While the protests may have died down, militant action in the country has carried on, earning focus from the government under Mr Hadi.