Finding Mubarak's millions
By Yolande Knell
BBC News, Cairo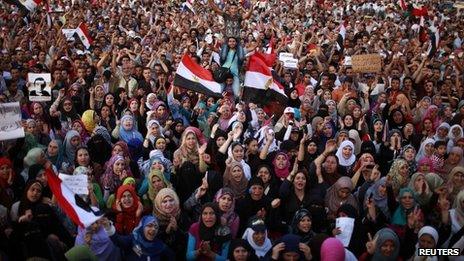 Egyptian officials given the task of recovering billions of dollars believed to have been stolen from the public purse during the Mubarak era are calling on other countries to deliver the help they promised.
After a trip to London, where some £85m ($132m) of assets remains frozen, they complain that progress remains slow.
They also say that attempts to discuss the extradition of the former finance minister, Youssef Boutros Ghali, from the UK back to Egypt where he has been convicted on fraud charges were refused.
The claims come as Egyptian protesters have continued to gather in Cairo's Tahrir Square in the past week.
They have expressed anger at the verdicts in the trial of the former president, who was acquitted of corruption along with his two sons, as well as at the choice of candidates in the run-off for presidential elections.
There is a general sense that the reforms demanded in last year's popular revolt are being forgotten. Activists believe economic injustice remains and abuses of power have gone unpunished.
"The old system was unfair and unjust for those of lower and middle classes. Those who were in the upper classes were really getting benefit out of their positions in the ministries and so on, making profit out of it," says Alia.
"It's not that we're seeking vengeance but we're seeking justice," adds Omar Hussein. "We set the standards for a new country, for a new regime, with law being the supreme power but it's not happening."
While President Hosni Mubarak was not as ostentatiously corrupt as some of his peers in the Arab world, cronyism and misuse of public funds and property became commonplace during his 30 years in power.
In the past year, many former ministers and big businessmen from the disbanded ruling party have been convicted.
So many are now behind bars at Tora Prison in Cairo that when Mubarak himself was taken there this month, some Egyptians joked that a reunion party could be held.
It is the task of lawyers at Egypt's Illicit Gains Authority to uncover evidence of corruption by public officials - past and present - and their families.
The shabby carpets and peeling paint along the corridors to its offices serve as a reminder of the lowly status of the government agency in previous times.
Since last year's uprising its importance has rocketed and it has found itself carrying the full burden of public pressure.
The cases have mounted up. Most recently it has brought new charges against the former president's sons, Gamal and Alaa Mubarak, for insider trading on the stock market.
"Actually, former President Mubarak and both his sons and their wives are subject to one of the biggest investigations of the authority," says Councillor Ahmed Saad, the Agency's spokesman.
"On this investigation we have at least 10bn Egyptian pounds [LE] ($1.6bn) missing in Egypt and outside."
Britain is one of about a dozen countries from which Cairo is seeking help to recover lost assets - including from the Mubaraks.
Late last month, Mr Saad travelled with a delegation from the Illicit Gains Authority to London.
They met representatives of several agencies including the Treasury's Asset Freezing Unit, the Central Authority at the Home Office, the Crown Prosecution Service and the Foreign Office.
"Most of the entities started to give more attention to our legal assistance requests," says Mr Saad. "They said that they will start to have their own police investigation after we said this was mentioned in the act rendered in the UK."
Talks with the UK Extradition Unit about Mr Boutros Ghali were the least successful.
While he has been living in London, the former finance minister has been sentenced to 30 years in prison for fraud and ordered to pay 60mn LE ($9.9m) in government funds that he is said to have acquired illegally.
"The Extradition Unit refused to talk about this issue so it was very disappointing," says Mr Saad.
The Foreign Office told the BBC that as the UK has no extradition relations with Egypt, the Home Secretary would have to make special arrangements before action could be taken against Mr Boutros Ghali.
On the subject of repatriation of assets, it said it was not government policy to discuss individual cases in public but confirmed it was working with the Egyptian authorities.
"This is critical to ensure justice but also to support Egypt's economic recovery," it said in a statement.
Experts on asset recovery express little surprise that proceedings have been drawn out and difficult. They say that like many other Western countries, Britain has the right laws in place, but fails to implement them.
"I'm afraid the Egyptian authorities will have been disappointed by the response they had. The fact is that anybody that has dealt previously with the UK authorities on these issues will have found the same degree of unwillingness really to cooperate," says Jeremy Carver of Transparency International.
"The solution is very simple which is that they need to enforce their own money laundering regulations and act on them."
"There's a massive amount of hypocrisy here, with the British government pretending on the one hand through high-minded statements of ministers - 'we encourage you to do this' and so on - and there's absolutely no follow-up at all."
"It's tempting sometimes to suppose that there's some ulterior motive - a political motive or commercial motive - but it's not as systematic as that. It's simply laziness," Mr Carver says.
His group has been offering advice and training to Egyptian lawyers and activists.
Within Egypt, officials estimate there are about 50bn LE ($8.3bn) in public assets and funds to be recovered. Overseas, they say they hope to trace at least $11bn by employing international experts and even private detectives.
While many countries pledged support to unravel the corruption that took place during Mubarak's years after he was dramatically forced from power last year, no money has yet been returned.