Polls bring fresh hope to Egypt's Islamists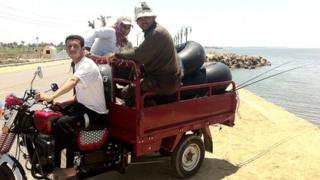 Fertile green fields dotted with workers wearing traditional galabiyya gowns seem to appear from nowhere out of the desert as you enter Fayoum, 100km (60 miles) south of the capital Cairo.
Docile water buffaloes chew the cud beneath the date palms that stand sentinel at the roadside completing the picturesque, pastoral scene.
This oasis province has been a stronghold for Islamists in recent elections. They took almost all the seats in the vote for parliament last winter.
The Muslim Brotherhood candidate, Mohammed Mursi, came here in the final week of campaigning for the first round of the presidential election and went on to win the most votes.
On Sunday, middle aged farmer Mohammed Ramadan had just returned to work digging on his plot of land after casting his ballot for Dr Mursi for a second time.
"Our living conditions are very tough. I heard people say that he'd be the best to develop the countryside and make reforms," he said.
At a nearby polling station in Yousef al-Sidik village, there were only Mursi voters to be found.
"You know it was an easy choice. We want an Islamic president," said Sherif Abdulatty.
"In the past no authorities gave attention to this poor place. We think Dr Mursi will be different and bring religion back to public life," Hamada Moneim added.
There was also unanimous backing for the Brotherhood among the fishermen bobbing in makeshift boats made of tyre inner tubes on the vast saltwater lake - the area's main attraction.
"We have a shortage of fish in Lake Qarun, but Dr Mursi has a programme to help us," said Alaa, as he and his friends loaded their small vessels and fishing rods into a trailer on the back of his motorbike.
Urban support
However, a few kilometres away in Fayoum city centre voting patterns were not so clear cut. There were significant pockets of support for the secular candidate and long-time minister of the ousted president, Ahmed Shafiq.
At one polling station, Teresa Luki, a Christian, described how she made her choice.
"I want a man who will keep Egypt a civil state and will not cause friction between different sections of society," she said.
A housewife wearing an Islamic headscarf, Sharbat Ali, had also opted for Mr Shafiq. "I want more stability and to get Egypt back on track," she said.
Like most women voters, she listed her main concerns as high unemployment and crime rates that rose dramatically after prisoners escaped from Fayoum jail during last year's uprising.
"My son is a handyman and gets just one job every few months. Work has been much harder to find since the revolution," Mrs Ali said. "Crime is also a problem. Girls have been assaulted and there have been kidnappings and carjackings."
As an illustration of the difficult calculations that Egyptian voters have been making, teacher Hannan Farag explained how her worries about security had driven her to vote for Dr Mursi.
"I respect Gen Shafiq, but I thought if he becomes president, it will start another revolution and lead to more instability," she said. "I think most people in Fayoum will vote for Mursi because they reject old regime figures."
Tensions flare
Just before polls closed, officials at the local office of the Mursi campaign expressed confidence that their candidate would improve on his performance in the first round of the vote when he faced competition from other Islamists - notably Abdul Moneim Aboul Fotouh.
"Many supporters of Dr Aboul Fotouh converted. The man who owns the building of his presidential campaign even turned it into another Mursi office," said media adviser Mahmuh Kalifa.
Others pointed out how the final Mursi rallies in Fayoum saw moderate Islamists unite with conservative Salafists to pursue their joint goal of stopping the Mubarak government from reconstituting itself.
The local Shafiq campaign representative, Saif Dawi, was realistic in his ambitions. "We will not defeat the powerful Islamic trend in Fayoum," he said.
"But our aim is to decrease the difference between Shafiq and Mursi from a ratio of one to four votes to a ratio of two to three votes."
This, he felt, would contribute to a national movement in his candidate's favour.
As in other parts of Egypt, both campaigns in Fayoum have recognised the urgent need to present solutions to deepening economic problems.
While the Brotherhood presented rural development projects and ways to boost small industry, the Shafiq campaign has won round many in the local tourism sector. His posters could be seen outside lakeside restaurants and hotels that have sat virtually empty for months.
"We have so many natural resources and beauty spots but for 16 months now we've had no business," said Abdallah Ahmed, a vendor of the pottery and woven goods that Fayoum has long been famous for.
Mr Ahmed complained that he could barely support his nine children and had high expectations of Egypt's next leader.
"We just want the next president to act fast and solve all our financial problems," he said.