Syria crisis: Trapped civilians must be evacuated - UN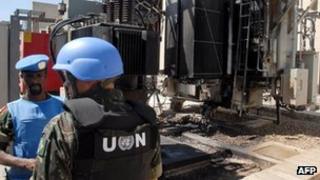 The head of UN observers in Syria has urged warring parties to allow the evacuation of women, children, elderly and injured people from conflict zones.
Maj Gen Robert Mood also admitted that "attempts to extract civilians" from the besieged city of Homs over the past week had been unsuccessful.
Homs has reportedly been under heavy bombardment from government forces.
The UK-based Syrian Observatory for Human Rights has said over 1,000 families in Homs need to be evacuated.
The Observatory said at least one person had died in Sunday's violence in Homs' Khalidiyeh district, and that 10 other deaths had been reported elsewhere in the country.
Massacre warning
In a statement, Gen Mood, the head of the UN Supervision Mission in Syria (UNSMIS), said that both troops of President Bashar al-Assad and rebel fighters "must reconsider their position and allow women, children, the elderly and the injured to leave conflict zones without any preconditions and ensure their safety".
"This requires willingness on both sides to respect and protect the human life of the Syrian people," the Norwegian general added.
Gen Mood's demand comes a day after he said the UN observers would cease operations in Syria because of the escalating violence.
The mission's 298 military observers and 112 civilian staff were sent to Syria to verify the implementation of a peace plan devised by UN-Arab League special envoy to Syria Kofi Annan, which included a ceasefire.
The move has been criticised by Syrian activists, with the opposition Syrian National Council (SNC) warning of a looming massacre in Homs which it says is besieged by 30,000 troops and pro-regime militiamen.
Videos uploaded to the internet by activists in the city's al-Bayada and Ghouta districts appeared to show heavy damage to buildings and vehicles from bombardment in recent days.
The SNC called on the UN Security Council to move swiftly to put the Annan plan into Chapter Seven, meaning that its implementation could be enforced.
The UN Security Council's five permanent members will consider the next steps for the observer mission when Gen Mood briefs them on the situation in Syria on Tuesday.
The Syrian government has repeated its full support for the Annan plan, and blamed "terrorists" and their outside backers for escalating the violence and derailing the plan.