Kuwait court voids election and reinstates parliament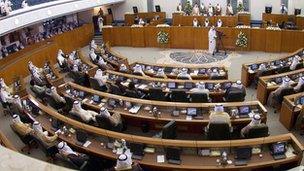 Kuwait's former parliament has been reinstated after the country's latest election was declared "illegal".
The constitutional court ruled that a move to dissolve the previous government, ordered by Emir Sabah al-Ahmed al-Sabah, was unconstitutional.
Sheikh Sabah suspended parliament for a month earlier in the week, following a row between the cabinet and lawmakers.
Kuwait's ruler ordered the dissolution of parliament last December amid a crisis over corruption allegations.
Elections were subsequently held in February, in which Islamist-led opposition made significant gains.
The emir has dissolved parliament four times since 2006.
The most recent dissolution came after the country's cabinet resigned ahead of the questioning of former Prime Minister Sheikh Nasser al-Mohammed al-Sabah.
Protesters stormed parliament after the government tried to prevent him facing questions over the alleged payment of bribes to pro-government MPs.
The constitutional court's decision to reinstate the previous parliament is thought to be final and unchallengeable.
Opposition MP Mussallam al-Barra said the ruling was "a coup against the constitution", according to the AFP news agency.