Palestinians killed in Gaza air strikes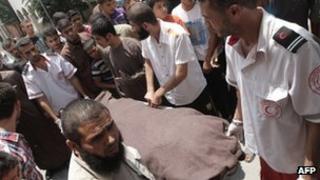 Two Palestinians, including a 14-year-old boy, have been killed in a third day of clashes between Israel and militants based in Gaza, medics say.
The boy reportedly died in an Israeli air strike on a farm in Zeitoun, east of Gaza City. Earlier, a militant was killed by a missile in Rafah.
Eight Palestinians have now been killed in Israeli air strikes since Monday.
More than 80 rockets and mortars have been fired into southern Israel in the same period, including 30 on Wednesday.
Most have landed in open areas and caused no damage, but one hit a house in Sdot Negev on Wednesday, leaving several people suffering from shock, Israeli media reported.
On Tuesday night, an Israeli Border Patrol officer was moderately wounded when a rocket hit a residential area in the western Negev desert. Three others were slightly hurt.
The Israel Air Force has carried out a series of air strikes in Gaza in response. Before Wednesday, six Palestinians, including at least four militants, had died as a result.
The death of a two-year-old girl in Gaza was initially blamed on an Israeli air strike, but it now appears a botched rocket launch was to blame.
Motorbike
A military spokesperson has blamed the upsurge in rocket fire on the Islamist movement, Hamas, which governs the coastal territory and whose military wing announced on Tuesday that it had fired 10 Grad rockets.
It was the first time Hamas has admitted that it was directly involved in attacks against Israel for more than a year.
Palestinian health officials named the boy killed in the air strike in Zeitoun as Muamin al-Adam. His father was also said to have been seriously wounded.
The Israeli military confirmed there had been an strike in the area, but gave no further information.
Earlier, a missile fired by an Israeli aircraft killed a militant - named by health officials as Ghalib Armilat - as he rode his motorbike in the southern town of Rafah. Another militant was injured in the strike.
The Israeli military said they had been members of al-Tawhid wa al-Jihad, a Salafist group which it described as "a global jihad terror movement that is responsible for ongoing terror attacks against Israeli civilians and soldiers".
The military added that Armilat had been "involved in the planning and execution" of Monday's attack in which militants crossed into southern Israel from Egypt's Sinai peninsula and ambushed two cars carrying Israeli construction workers, killing one.
Two militants died in a subsequent gunfight with Israeli soldiers. A third is understood to have crossed back into Egypt. The little-known "Mujahideen Shura Council of Jerusalem" later said an Egyptian and a Saudi had been behind the attack.
The Israeli military said the militant injured in Wednesday's air strike, Mohammed Rashdan, was involved in "weapons transfers, supplying explosive devices to terror operatives, firing rockets at Israel, sniper and mortar fire, and smuggling terror operatives from Gaza".
Armilat and Rashdan were both "planning another attack", it added.