Rapists' public hanging sparks Iran debate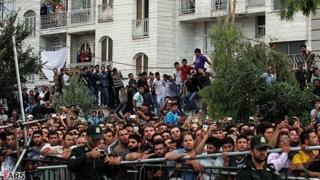 The public execution of four men convicted of rape in Iran has led to a debate among Iranian web users, with disagreement over whether such scenes act as a deterrent or increase the general level of violence in society.
The four were hanged in the working class district of Shahid Mahalati in southern Tehran after being found guilty of "aggravated rape". The sentences were carried out at 06:00 and, according to some reports, people had started gathering at the execution site the night before to watch the spectacle.
On the same day, the editor-in-chief of Asr-e Iran (The Evening of Iran) news and analysis website penned an opinion piece criticising the public execution and those who went along to watch.
Jafar Mohammadi's article - entitled "All this enthusiasm to watch a scene of execution - why?" - warned of the negative consequences of viewing violent images, especially for the young.
"The exposure of children and young adults to violent scenes can have negative consequences... and lead them to violence."
Mr Mohammadi had harsh words for parents who took their children to watch the public hanging.
"In all honesty, what does it mean when a father takes along his five-year old daughter or young son, and buys them ice cream on the way, to make them watch the dreadful and painful death throes of someone on the gallows?"
Mr Mohammadi also called for a thorough assessment of the reasons behind the enthusiasm among certain members of the public for watching public executions. Such an assessment, he wrote, would shed light on the factors that "increase the level of violence in society".
His article was picked up and reproduced by a number of news outlets, and was the front page op-ed of Thursday's daily Ebtekar.
The majority of user comments on Asr-e Iran website backed Mr Mohammadi.
"You spoke the words of my heart, dear Asr-e Iran," wrote an anonymous poster. "Watching these scenes makes children and people in general become heartless and merciless."
Another poster spoke from experience. He thanked Mr Mohammadi for his comments and added: "When I was a young, I saw a public execution and even though the guy was guilty of his crime, I can never forget that terrible scene."
'Lesson to others'
But not everyone supported Mr Mohammadi's stance. One had an explanation for the enthusiasm shown by some people.
"The reason for the enthusiasm is because... this will be a lesson to others."
And comments appearing on the conservative news website Rajanews below graphic photos of the executions were in favour of the public hangings, with many thanking the police.
"My thanks to the Law Enforcement Force," said user Hoseyn.
"Good. Let me thank all those in the Judiciary," wrote another.
"Let us all look at this [scene] and learn a lesson and not become sinners," wrote a third.
Iranian authorities regularly defend public hangings of criminals, saying they act as a deterrent.
According to the chief of police, Esmail Ahmadi-Moghaddam, Iran recorded 900 rapes in the year ending March 2012. Previously, he said that rape is a crime on the rise.
Moreover, he said that, contrary to perception, 60% of rape victims are men.
It is difficult to verify these figures, as many rape cases, especially those against women, go unreported for fear of stigmatisation in Iran's highly religious society.
BBC Monitoringselects and translates news from radio, television, press, news agencies and the internet from 150 countries in more than 70 languages. It is based in Caversham, UK, and has several bureaux abroad. For more reports from BBC Monitoring,click here