Turkey: Jet 'downed by Syria in international airspace'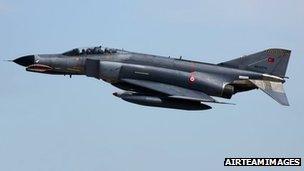 Turkey's foreign minister has said the fighter jet shot down by Syrian air defence forces on Friday was in international airspace when it was hit.
Ahmet Davutoglu said the unarmed plane was not on a secret mission related to Syria, but had mistakenly entered Syrian airspace before the incident.
Syria maintains that it engaged the aircraft in its airspace "according to the laws that govern such situations".
The Turkish and Syrian navies are still searching for the two crew members.
Turkish Prime Minister Recep Tayyip Erdogan is meeting the leaders of the three other parties in parliament to discuss how to respond.
Turkey had also called a meeting of Nato member states on Tuesday.
"Turkey has requested consultations under article 4 of Nato's founding Washington Treaty . Under article 4, any ally can request consultations whenever, in the opinion of any of them, their territorial integrity, political independence or security is threatened," Nato spokeswoman Oana Lungescu told the Reuters news agency.
UK Foreign Secretary William Hague said Syria's actions were "outrageous" and underlined "how far beyond accepted behaviour the Syrian regime has put itself".
"It will be held to account for its behaviour. The UK stands ready to pursue robust action at the United Nations Security Council."
In an interview with TRT television on Sunday, Mr Davutoglu asserted that the unarmed F-4 Phantom had "momentarily" entered Syrian airspace by mistake on Friday but had left when it was shot down 15 minutes later.
"According to our conclusions, our plane was shot down in international airspace, 13 nautical miles (24km) from Syria," he said.
According to international law, a country's airspace extends 12 nautical miles (22.2km) from its coastline, corresponding with its territorial waters.
Mr Davutoglu also insisted that the jet had not been on a "covert mission related to Syria" but had instead been carrying out a training flight to test Turkey's radar capabilities.
He said the plane had not "shown any hostility", been clearly marked as Turkish, and that he did not agree with the Syrian military's statement that it had not known to whom it belonged.
Privately, senior members of the governing AK Party have accused Syria of violating international law, says the BBC's Jonathan Head in Istanbul.
Earlier, Mr Davutoglu spoke by telephone to UN Secretary General Ban Ki-moon, who has urged restraint by both sides, and the foreign ministers of the five permanent members of the UN Security Council.
Turkey wants to be sure of the strongest backing once it decides its official response, our correspondent adds.
The government has promised that it will be strong, decisive and legitimate, and that it will share all the information it has with the public.
The Turkish military said it lost radio contact with the F-4 Phantom at 11:58 (08:58 GMT) on Friday while it was flying over Hatay province, about 90 minutes after it took off from Erhac airbase in the province of Malatya, to the north-west.
Later, the Syrian military said an "unidentified air target" had penetrated Syrian airspace from the west at 11:40 local time (08:40 GMT), travelling at very low altitude and at high speed.
It said that in line with the laws prevailing in such cases, Syrian air defences engaged the craft, and scored a direct hit about 1km (0.5 nautical miles) from its coastline.
It burst into flames, and crashed into the sea at a point 10km (5 nautical miles) from the village of Om al-Tuyour, off the coast of Latakia province, well within Syrian territorial waters, the statement added.
Syrian television showed a map charting the aircraft's movements, coming in from over the sea near northern Cyprus.
The Syrian military statement said that after it "became clear the target was a Turkish military plane which had entered our airspace", the naval commands of the two countries were in touch, and a joint operation was going on to find the missing crew members.
Relations between Nato-member Turkey and Syria, once close allies, have deteriorated sharply since the uprising against Syrian President Bashar al-Assad began in March 2011. More than 30,000 Syrian refugees have fled the violence across the border into Turkey.
After a cross-border shooting by Syrian security forces in April that left two refugees dead at a camp near the town of Kilis, Turkey said it would not tolerate any action that it deemed violating its security.