Egypt President Mursi's first speech: Key quotes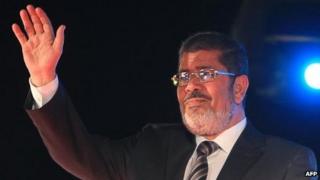 The Muslim Brotherhood's Mohammed Mursi gave his first speech as Egypt's new president on Sunday evening.
Here are some of the key points from his speech:
International relations
"We came to the world with a message of peace. We will maintain international charters and conventions and the commitments and agreements Egypt has signed with the world."
"We will not allow ourselves to interfere in the internal affairs of any country in the same way that we will not allow any interference in our affairs."
The revolution
"I would not have talked to you today as the first president elected by the free will of Egyptians... but for God's help and these sacrifices, the precious blood of our honourable martyrs and our great injured men."
"Thanks and salute to the martyrs... to my people who have lost their dear ones and sacrificed them for the sake of Egypt."
"The revolution will continue until all its objectives are achieved. Together, we complete this march."
Armed forces and judiciary
"I love them [soldiers] and appreciate their role and show keenness to strengthen them."
"All judges in Egypt should be appreciated... My responsibility in the future is to make sure that judges truly and genuinely work separately from the executive and legislative powers."
National unity
"Egypt is for all Egyptians; all of us are equals in terms of rights. All of us also have duties towards this homeland. As for myself, I don't have rights. I only have duties."
"We Egyptians, Muslims and Christians, are advocates of civilisation and construction."
"I invite you, the great Egyptian people... to cement bonds amongst us, to strengthen our comprehensive national unity."
"We will also work to make the Egyptian system of ethics... in addition to human values particularly in freedoms, respect for human rights, maintaining rights of women and children."