Egypt election: Regional reaction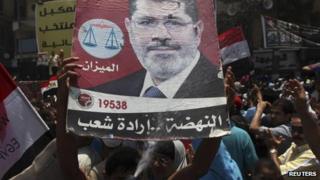 Egypt's first democratically elected president, Mohammed Mursi, has started work on his leadership team. Here people from the region react to the election of the Muslim Brotherhood's candidate.
Kais Makhouf, 19, student, Tunis, Tunisia
I'm worried about how other parts of Egyptian society will react to the results. Will they accept them? The Christian Coptic population might have an issue with the election of an Islamist president.
Reaction here in Tunisia depends on political viewpoint. Most of my entourage were disappointed with the election of the Muslim Brotherhood. I think they may not have been the best choice for the country - religion shouldn't be mixed up with politics.
Egyptians could be making the same mistakes as Tunisians. People here voted for an Islamic party just because it is Islamic.
As in Tunisia, I'm scared the Egyptian government might be tempted to divert the debate from much-needed economic reform to that of futile social norms.
We ended up granting powers to people with no experience of power. The Muslim Brotherhood in Egypt doesn't have much experience of power either.
What is happening in Tunisia is the polarisation of society itself - with the more Islamic against the less Islamic, the more secular. The same could happen in Egypt.
But at least the elections were democratic and people played by the rules. Should the aftermath go well, we might have a new dynamic in the region.
Motasem Dalloul, 32, journalist, from Gaza studying in London
I was delighted with the election of Mohammed Mursi because the biggest Arab country has now had successful democratic elections. Also, the new president is a supporter of the Palestinian cause.
I was in touch with my friends and family in Gaza at the time of announcing the result. They told me that celebration started as soon as Mursi was announced winner. People were shooting in the air, distributing desserts and exchanging congratulations.
The victory of the Muslim Brotherhood will result in a new political map led by Islamists - and secularism in the region will fade gradually. The positive thing about the new Islamists is that they are moderate.
The new Egypt will adopt a new policy to deal with the Palestinians. It is known that Hamas in Gaza is an offshoot of the Muslim Brotherhood. Therefore, they will get a better support - which is a 180-degree switch from the previous regime.
I fear that the new Egypt will face a very strong popular opposition led by the secular politicians, journalists, authors and so on.
I hope the military retreat from its new decrees which restricted the power of the other political bodies such as the president and the parliament.
Simon Daniels, 29, accountant, Givat Shmuel, Israel
The election results in Egypt seem to that show the Arab world is replacing secular, military dictatorships with some form of radical Islam. What that means in practice I don't know.
Hamas is vaguely related to the Muslim Brotherhood - and whilst they may preach the destruction of Israel, most of the time they actually call for quiet. But this election does add an air of uncertainty.
It also depends what role Iran has in all of this. If Egypt gets closer to Iran, that could be a threat.
Egypt has at least started a haphazard process of democratisation.
To be honest, people around me don't really discuss Egypt that much - it's just one of many other concerns. The real question is whether they will continue to act as a good neighbour. What they do and what they say will probably quite different as with the previous regime.
The Muslim Brotherhood has mentioned renegotiating the peace treaty with Israel. Egypt must decide whether it wants to have a neighbourly relationship or if it wants conflict.
As an Israeli who moved from Britain a couple of years, I believe Israel has done well, and is continuing with strong economic growth and relatively good social cohesion. Our neighbours should look at us to learn, rather than using us a punch bag.
Shawqi Issa, 50, human rights director, Bethlehem, West Bank
Change, democracy and free elections are all good for Palestinians as we believe that people in Arab countries will support us and our cause.
The Islamists taking power in Egypt is not my preference as I am secular.
What I want to see is regular free elections taking place in Egypt every four years as this will give the Muslim Brotherhood the opportunity to demonstrate whether or not they can rule Egypt.
Everyone is afraid that the Muslim Brotherhood won't allow free elections but in Egypt I don't believe this will happen - Egyptians won't allow it.
In four years, the Muslim Brotherhood will understand that religion cannot rule a country and that anyone who tries to use religion to rule a country fails.
I think that the Muslim Brotherhood will support the Palestinian people more than the previous regime but they will remain cautious in their relations with countries such as the USA and Israel.
Hamas is part of the Muslim Brotherhood so they are very happy to see Mursi come to power - they will benefit from this and will expect more support.