West Bank Jewish settlers leave Ulpana outpost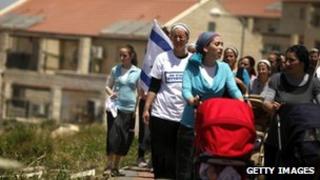 Israeli authorities have begun to evacuate Jewish settlers from an unauthorised West Bank outpost after a court ordered it to be dismantled.
Officials arrived on Tuesday morning to help the first of 30 families relocate from Ulpana to temporary housing in adjoining settlement of Beit El.
There had been fears the settlers would resist and have to be forcibly removed.
Israeli Prime Minister Benjamin Netanyahu has ordered the construction of 300 new homes in Beit El.
The move was seen as an effort to placate the settler movement and right-wing critics in Mr Netanyahu's own Likud party
All settlements in the West Bank and East Jerusalem are considered illegal under international law, though Israel disputes this.
The settler outposts are also illegal under Israeli law and the government agreed to remove them under the 2003 Road Map peace plan.
The fate of Ulpana, which was built on private Palestinian land, has been a source of tension between settlers and the government.
Ulpana is part of the bigger settlement of Beit El, north of Jerusalem, which is built on land captured by Israel in the 1967 Middle East war. Palestinians say it should be part of their future state.
The decision to build the new homes in Beit El was criticised by the Palestinians and the US, which said it undermined peace efforts.