Hamas member 'assassinated' in Syrian capital Damascus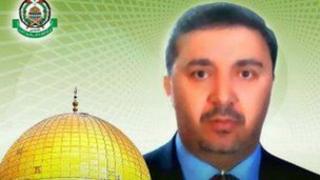 The Palestinian Islamist militant group Hamas says one of its members has been assassinated in Damascus.
Kamal Ghanaja was reportedly shot dead by gunmen who burst into his home in the Syrian capital's northern suburb of Qudsaya earlier this week.
Hamas has not formally blamed anyone for the killing but one official told the AFP news agency that the Israeli secret service, Mossad, was behind it.
Israel's defence minister described the accusation as not "necessarily true".
"He was not really personally familiar [to me]," Ehud Barak told Israeli Army Radio on Thursday.
"According to all the background published, he was no saint and I don't want to add anything or comment about this incident."
'Tortured'
A Hamas official told the BBC that Mr Ghanaja, who was also known as Nizar Abu Mujahid, had once been an aide to Mahmoud al-Mabhouh, a senior operative who was assassinated in Dubai in 2010 in what many believe was a Mossad operation.
Mr Ghanaja's death was announced on Facebook on Wednesday night by Izzat al-Rashak, a member of the Hamas Political Bureau, which used to be based in Damascus. He blamed a "treacherous party".
Mr Rashak said the dead man had been a member of Hamas for many years, and that he had served his movement and the Palestinian people, adding that his blood would not be wasted.
In a separate statement, the Hamas leadership in Gaza stopped short of directly blaming Mossad, but said it was opening an investigation "to identify the party behind the deplorable crime".
But one unnamed Hamas source told AFP: "According to our information, Mossad was behind the assassination."
Hamas sees itself as being in a constant battle with Israel's intelligence services, reports the BBC's Jon Donnison.
Syrian opposition activists meanwhile blamed the Syrian government for Mr Ghanaja's death. A Hamas sources was quoted by the Reuters news agency as saying he had "marks of torture" on his body.
"The charred, scarred, body was concealed in a ceiling closet and a fire had engulfed the house which apparently the assassins had started," the source said.
Mr Ghanaja's body was found on Wednesday, but most indications suggested he was killed a day earlier, he added.
The Hamas Political Bureau's senior leaders left Damascus earlier this year after they refused to back Syrian President Bashar al-Assad's violent crackdown on anti-government protests.
The group's political leader, Khaled Meshaal, now lives in Qatar. His deputy, Moussa Abu Marzouk, is based in Egypt.