Libya crowd 'ransack Benghazi election office'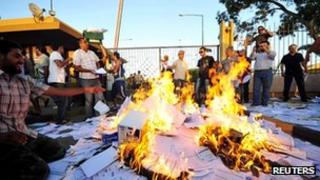 Protesters demanding greater autonomy for eastern Libya have ransacked the offices of Libya's electoral authority in Benghazi, witnesses say.
About 300 people chanting pro-autonomy slogans took ballot boxes out of the building and burnt election papers in the street, a witness told Reuters.
Libya is to elect a new parliament on Saturday, in the first democratic polls since the ousting of Muammar Gaddafi.
Pro-autonomy leaders in eastern Libya have called for a boycott of the vote.
They want eastern Libya to be given a larger share of seats in the new 200-member legislature, which is tasked with drawing up a constitution.
Libya's electoral law apportions 60 seats to eastern Libya and 102 to the west, with 38 going to the rest of the country.
"A group of people entered the commission's premises, ransacked the offices and destroyed what they found inside the building," the Benghazi head of the High National Election Commission, Jamal Bukrin, told AFP.
The call to boycott Saturday's vote was made by a group that has proclaimed itself the authority of a semi-autonomous territory in Cyrenaica, or eastern Libya.
Oil-rich
One of the movement's leaders, Abdeljawad al-Badin, described the violence as the protesters' "reaction to the authorities disregard for their demands".
Cyrenaica contains two-thirds of Libya's oil reserves, but felt marginalised under Gaddafi's rule.
It was one of three regions that formed part of a federal system before 1963, along with Tripolitania around the capital Tripoli in the north-west, and Fezzan in the south-west.
In March, a rally in Benghazi calling for a semi-autonomy for Cyrenaica turned violent, leaving one person dead.
Libya's interim authorities have struggled to restore stability since Gaddafi was removed from power last year in an uprising originating in Benghazi and other eastern cities.
Frequent clashes have taken place between rival militias that have refused to disarm since the end of the fighting.