Saudi dissident Faqih removed from UN sanctions list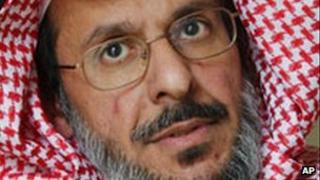 The UN Security Council committee monitoring sanctions against al-Qaeda has removed a London-based Saudi dissident from its blacklist.
Saad al-Faqih and his Movement for Islamic Reform in Arabia were de-listed after the committee decided not to override an ombudsman's recommendation.
Dr Faqih said he was a peaceful activist who had been a victim of conspiracy by "tyrants in the Gulf".
The US said it had opposed the move and that it would maintain its sanctions.
"[The UN] action has no effect on the way we deal with him," state department spokeswoman Victoria Nuland said.
'Laborious battle'
Dr Faqih was a professor of surgery in Riyadh until he was briefly jailed for opposition activities and left Saudi Arabia for the UK in 1993.
He founded the Movement for Islamic Reform in Arabia (Mira) in 1996, which encouraged protests aimed at overthrowing the royal family.
In addition to publishing books and operating a television channel, Dr Faqih ran Mira's website from his home in Willesden, north-west London.
The website became controversial when it began to publish frequent statements from al-Qaeda in the late 1990s, and then began to post statements from Islamist militants in Iraq after the US-led invasion in 2003.
In 2004, Dr Faqih and Mira's assets were frozen by the US authorities and UK for allegedly providing al-Qaeda with recruits and public relations assistance.
They were placed on the list of terrorist groups and individuals maintained by the UN Security Council's so-called "1267 Committee" for their alleged support of al-Qaeda shortly afterwards.
In 2009, the Security Council established an independent ombudsman to deal with requests from individuals to be removed from the blacklist.
The ombudsman, currently Canadian lawyer Kimberly Prost, recently ruled that Dr Faqih and Mira should be delisted and told the 1267 Committee that it would happen within 60 days unless member states agreed by consensus to override him.
On Monday, the committee's chairman, German Permanent Representative Peter Wittig, announced in a statement that "after thorough consideration" Dr Faqih and Mira had been removed.
"The key question the committee has to consider is whether there is sufficient information to provide a reasonable and credible basis for concluding that an individual, group, undertaking, or entity is associated with al-Qaeda," he added.
The UK and Germany reportedly supported Dr Faqih's removal, while the US and Saudi Arabia were among those who opposed it.
Dr Faqih said it had been a "laborious battle" to get off the sanctions list.
"All that has happened in the last eight years is that an innocent, peaceful activist, acting within the law, has been a victim of a conspiracy by tyrants in the Gulf supported by superpowers," he told the Reuters news agency.