Protest against Palestinian Authority in Ramallah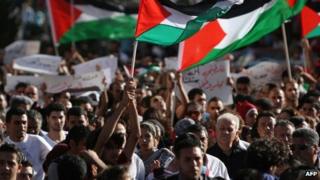 Hundreds of people have taken part in a rally in the West Bank city of Ramallah in protest against the policies of the Palestinian Authority.
The demonstration was called by youth activists after Palestinian police broke up two protests on the weekend.
Some of the protesters on Tuesday called for the PA to be dismantled.
The demand came after government officials said they would be unable to pay this month's salaries for civil servants, because of a funding crisis.
Mofaz meeting
The BBC's Jon Donnison in Ramallah says Tuesday's demonstration was relatively small, but it was the third since Saturday.
Initially the protests were against PA President Mahmoud Abbas's plan to meet Israeli Vice-Prime Minister Shaul Mofaz.
Our correspondent says such a meeting would not have meant the resumption of long-stalled peace talks, but frustrated with decades of failed negotiations many Palestinians feel any such discussions are a waste of time.
In the end, the meeting was called off without explanation but Palestinian security forces were accused of beating demonstrators to disperse the protests. At least three people reportedly needed hospital treatment.
Mr Abbas's office has said a commission headed by an independent figure has begun an investigation, and promised that it "will not permit any type of violation of freedom of expression and the right to free assembly", nor any physical abuse by officials.
Tuesday's rally, which saw hundreds of people march towards the president's compound, was in large part against that use of force, our correspondent adds.
"With this march we emphasise that the people are the source of authority, and that we reject the use of violence against the Palestinian people by any and all hands," the Palestinians for Dignity youth group said in a statement.
However, some protesters also called for the PA to be disbanded.
Earlier, Finance Minister Nabil Kassis had announced that the government could not pay government workers their salaries this month because of "the worst" financial crisis in three years.
Salaries will be paid when the government can afford it, he said.
The PA is heavily dependent on foreign aid, but many donor countries have reduced their contributions since the global financial downturn.
Our correspondent says Palestinians have been relatively untouched by the so-called Arab Spring, but some believe their economic hardship, coupled with frustration at the PA's inability to end or ease Israel's occupation could create an atmosphere where that might change.