Syria UN observer mission must be 'reconfigured' - Mood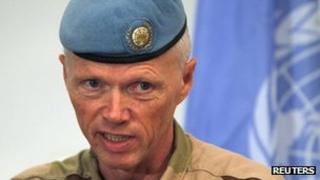 The head of the UN observer mission in Syria has said monitors cannot resume their work in the country until there is an end to the bloodshed.
Speaking in Damascus, Maj Gen Robert Mood said "unprecedented" levels of violence had forced the suspension of operations in June.
The UN Secretary General is due to distribute a report on the mission to members of the Security Council later.
Gen Mood said a decision on the mission would be made in coming weeks.
The comments come as Western powers and Arab nations prepare to meet in Paris for a Friends of Syria meeting to negotiate a solution to the crisis.
China and Russia have said they will not attend the talks - the third such round since the unrest in Syria began in March 2011.
Safety fears
Speaking at a news conference, Gen Mood said the UN monitoring teams needed to be restructured to support the political dialogue that he said was neccessary to bring an end to the violence.
"Now we are in a situation where we have the contacts and knowledge, but we have no ceasefire.
"So it is time to stop spreading ourselves out too thin and restructure in a way that will allow us, once we resume our activities, to conduct targeted tasks that require longer periods of stay in particular areas," he said.
He called for an end to the bloodshed, and said the UN Supervision Mission in Syria (Unsmis) "stands ready" to offer its support.
Unsmis suspended operations three weeks ago, after violence that had posed "significant risks" to observers.
UN monitors were fired on and turned away by angry residents as they tried to enter the town of Haffa amid fears of a massacre.
Later, in an interview with the BBC, Gen Mood said there were few viable options other than the "obvious one" - for both sides to "take their fingers off the triggers and bring this forward in a peaceful way".
Increasing the number of observers would "probably increase their weaknesses", while arming the mission would "invite animosity", he said.
The UN's deputy envoy to Syria Jean-Marie Guehenno told the BBC it was a "real moral dilemma" because the mission had a duty to the Syrian people.
He insisted that it was not "abandoning" Syria, saying that it was "collecting facts on the ground" which were crucial to negotiations, and also stood ready to support any political agreement.
'Attempt to mislead'
The Friends of Syria talks follow a new proposal by UN-Arab League envoy Kofi Annan, which aims to negotiate a political transition in Syria.
However, the plan has been criticised by the opposition for not explicitly demanding that President Bashar al-Assad and his aides step down.
China and Russia, who have previously blocked resolutions in the Security Council on Syria, say Syrias must decide how the transition should be carried out and have not ruled out that Mr Assad remain.
Meanwhile, Russia has dismissed as a joke rumours that it is considering offering political asylum to Mr Assad.
Foreign Minister Sergei Lavrov told reporters at a news conference that Germany had suggested in June that Russia should take the president in, and that he was surprised the issue had resurfaced.
"It is either an attempt to mislead serious people dealing with foreign policy, or a lack of understanding of Russia's position," he said.
In other developments, Iraq's foreign minister has said his government has "solid information and intelligence" that al-Qaeda militants have been moving from Iraq to Syria to carry out attacks, according to AP.
According to the agency, Hoshyar Zebari said Baghdad had warned Syria "for years" about al-Qaeda's actions in Syria.
He said the Iraqi authorities were worried about a spillover of violence from Syria to the rest of the region.
Also on Thursday, whistle-blowing website Wikileaks said it was releasing more than two million emails from Syrian political figures, ministries and corporations.
The files date from 2006 to 2012 and will be made public over the next two months, the site said.