Omanis protest at slow pace of reform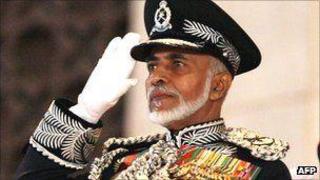 Oman has largely escaped the wave of unrest and revolution that swept across the Arab world since 2011, but recent protests about youth unemployment in the second city of Suhar and the arrest of 14 Omani rights activists in June point to rising discontent in the Gulf monarchy.
Suhar was the scene of protests in February 2011, when residents barred roads and marched calling for political reforms.
Police suppressed the demonstrations, and two people were reported killed in the clashes. Sultan Qaboos, who has ruled Oman since 1970, allayed the unrest by reshuffling his cabinet and promising to create more jobs.
But the protests in Suhar earlier this month and the detention of dozens of Omani rights activists are signs of growing resentment at the slow pace at which the government has delivered on promises to get young people into work and reform the political system.
Broken promises?
About 200 Omanis took to the streets of the port city of Suhar on 1 July demonstrating against unemployment in the country, according to a report on news website Middle East Online.
Eyewitnesses told news sources that the protesters were carrying placards calling for more job opportunities, angry at the rate at which the government had followed up on its pledges to find work for jobseekers.
While Oman's state-controlled media outlets were not seen to report disturbances in Suhar, they did announce fresh plans to create more jobs for young people, particularly in the service industry.
The Oman Observer news website said that there were plans for "a host of comprehensive programmes which would help local youth secure jobs of their choice".
The programme will focus on boosting employment in Suhar and its surrounding area, where most of the unrest has taken place. The pledges to create jobs suggest the government is hoping to move quickly to prevent further protests.
'Assault on freedom'
The protests in Suhar may have been relatively low-key, but in May, Omani authorities began arresting bloggers and online activists who had been criticising the government's failure to implement reforms.
When a group of activists protested outside the central police station in the capital Muscat on 11 June to call for the release of the detained activists, police swooped and detained at least 22 people, eyewitnesses told al-Jazeera.
Many of those arrested on 11 June had signed an online declaration earlier that day, in which they called for the Sultanate's government to respect "human rights and fundamental liberties".
Omani authorities began the trial of 14 activists on 25 June, charging most with "organising illegal gatherings", but accusing three of the more serious offence of defaming the sultan.
This led Human Rights Watch to condemn Oman for its "assault on freedom of speech". In an open letter to the EU High Representative Catherine Ashton, the group demanded that the Sultanate immediately "halt harassment of human rights and political activists".
The government's response to demonstrators in June shows how worried it is about unrest spreading.
Criticism of the government has begun to appear on some Omani internet forums but human rights groups say criticism of Sultan Qaboos himself or his family is still a "red line" that few dare cross.
Sultan Qaboos's 40-year reign has been largely peaceful and during these years, Oman has become a popular tourist destination as well as a key regional ally to the United States and Britain.
BBC Monitoring selects and translates news from radio, television, press, news agencies and the internet from 150 countries in more than 70 languages. It is based in Caversham, UK, and has several bureaux abroad. For more reports from BBC Monitoring, click here