Israeli PM Netanyahu's party backs conscription law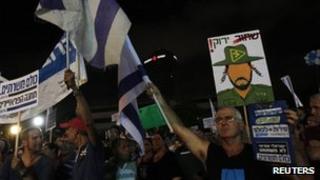 Israeli PM Benjamin Netanyahu's party has unanimously approved a plan to end exemptions from conscription for ultra-Orthodox Jews and Arab Israelis.
The move by the Likud party means the coalition government can now move towards drafting a new law.
Thousands of people rallied in Tel Aviv on Saturday, saying all Israelis must share the burden of military service.
But some of Mr Netanyahu's coalition partners threatened to pull out if the exemptions ended.
Military service is compulsory for most Israelis over the age of 18, with men serving three years and women two.
'Positive incentives'
The Likud party backed the plan during its meeting in Jerusalem on Sunday.
Mr Netanyahu earlier urged the party to approve the proposal, saying that "everyone must bear the burden".
"We will provide positive incentives to those who serve and negative incentives to draft dodgers," the prime minister said.
Mr Netanyahu's main coalition partner, Kadima, earlier threatened to leave the coalition unless the changes were approved.
But other coalition partners representing ultra-Orthodox Jews made opposite threats, squeezing Mr Netanyahu into a tight political corner.
After Sunday's vote, the prime minister is reported to have agreed with the Kadima leader, Shaul Mofaz, to form a panel to draft the new law.
In February, Israel's Supreme Court ruled that the so-called Tal Law was unconstitutional and set an ultimatum for a revised law to be brought in by August.
One of the proposals on the table envisages cutting the exemptions from 50,000 to 1,500 by 2016. It would also triple the number of Arab Israelis who would be conscripted.
But Sunday's decision by Likud will not solve Mr Netanyahu's dilemma or calm the increasingly raucous divide between ultra-Orthodox Jews and many of their fellow citizens, the BBC's Sebastian Usher says.