UN Yemen envoy: Militants disrupting political process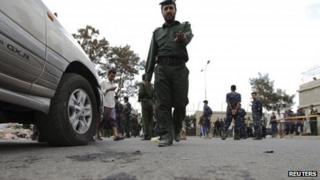 Al-Qaeda-linked militants are disrupting Yemen's political situation and could harm global security, the UN envoy there has warned.
Speaking to the BBC, Jemal Benomar said insurgents were trying to disrupt efforts to strengthen the government.
He made the remarks a day after a suicide attack in the capital Sanaa killed 10 police cadets.
Mr Benomar warned that global security could be affected if the international community did not support Yemen.
Since Ali Abdullah Saleh stood down as president last year, Islamist militants have taken advantage of the instability resulting from the popular uprising that forced him out.
In May, more than 90 soldiers were killed when a suicide bomber dressed in army uniform blew himself up during a parade rehearsal in Sanaa.
Ansar al-Sharia, an offshoot of al-Qaeda in the Arabian Peninsula, said it had carried out that attack - the deadliest in the capital since Abdrabbuh Mansour Hadi was elected president in February.
No group has come forward to claim responsibility for Wednesday's attack, but suspicion has fallen on Ansar al-Sharia.
After becoming president, Mr Hadi said one of his most important tasks was the continuation of the war on al-Qaeda and he instructed the military to regain control of several key towns in the southern province of Abyan.
Last month, the army recaptured the provincial capital Zinjibar after a campaign which left hundreds of militants and dozens of soldiers dead.