Egypt's ex-President Mubarak ordered back to prison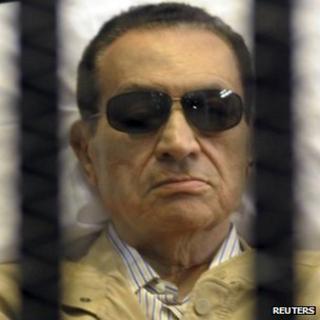 Egypt's public prosecutor has ordered that former President Hosni Mubarak be returned to prison, saying that his health has improved.
Mubarak, 84, was moved from prison to a hospital last month after reports of a deterioration in his health.
He was said at the time to have had a series of strokes and to be on a life support machine. Reports that he was "clinically dead" were later denied.
In June, he was jailed for life for his role in the deaths of protesters.
Scepticism
Prosecutor Abdel Maguid Mahmoud issued "an order to transfer former President Hosni Mubarak from the Maadi Armed Forces Hospital to Tora prison hospital after an improvement in his health," his office was quoted as saying.
Mr Mahmoud's deputy, Adel al-Saeed, said that a panel of doctors had earlier established that the former president's "health is currently stable with medication, and it is considered good for someone of his age," according to the AFP news agency.
It was not immediately known when Mubarak would be transferred to prison.
However, any report about his health has to be treated with a large degree of scepticism, the BBC's Jon Leyne in Cairo reports.
There has been a strong suspicion that the many health scares surrounding the former president were designed either to get him moved from prison to a hospital or to help him win clemency, our correspondent says.
Whatever the truth of the matter, he adds, Egyptians will be fairly certain this is not the last they are going to hear of this ongoing saga.