Egyptian revolution 'failing to deliver for women'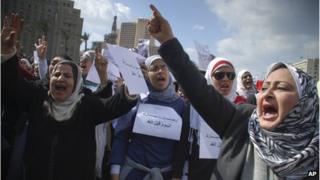 Nisreen was young, brave and full of hope for the new Egypt she was in the process of creating.
It was 6 February 2011 and she, like hundreds of other women, was sleeping in Tahrir Square to physically protect it from the Mubarak-government forces trying to take it back.
Nisreen told me that day she believed that after the uprising things had changed for women in Egypt. She felt safe in the square she told me because "There is no harassment".
So she was ready to stay "one day, one week, one month, one year" to topple the regime. She didn't have to wait that long for President Hosni Mubarak to go.
His regime was already crumbling. But her hopes, shared by many others, that things had changed for women would be brutally disappointed.
'Virginity tests'
In the weeks and months that followed Egyptian women were subjected to appalling violence. They were beaten and sexually assaulted by the security forces.
The state subjected them to humiliating "virginity tests" and now in the square, where Nisreen had once felt so safe, gangs of men are preying on young women like packs of animals; stripping them naked, sexually assaulting and then dumping them in the gutter.
"In last year's protests, Tahrir Square was a place where women stood on an equal footing with men to demand their freedom. Now it has become a place where women are singled out for sexual harassment," was how Amnesty International's Hassiba Hadj Sahraoui responded last week to the attacks.
If women have found themselves driven from their public space the revolution has also pushed them further out of the political arena.
The now dissolved parliament, which was formed after the revolution, had fewer women in it than during the time of Mubarak.
Market forces
Mona Eltahawy is a prominent journalist and blogger. She was left with two broken arms and was sexually assaulted after she was arrested and detained during a pro-democracy rally just before the parliamentary elections last year.
But she told me recently she was still optimistic that women would be eventually better off after the uprising.
"If you [looked] at the parliament in Egypt and see that 70% of it is Muslim Brotherhood or Salafi you can make the argument that we now have people in politics who do not believe in women's rights.
"But what it's done is put us on notice that we have to fight because sometimes you need that sharpened awareness of what you are butting heads against.
"Under those so-called secular regimes every first lady would adopt a feminist cause and it actually hurt feminism because it became associated with the dictators wife, but now we are taking feminism away and making it of the street and not of the dictators wife."
They may have been done with the worse intentions but there is a risk that the few freedoms women were given by the dictatorships may now be lost.
But the President of the American University in Cairo, Lisa Anderson, says those reversals may be more a consequence of revolution in an autocratic state than about the make up of the people who inherited power afterwards.
"When you have these authoritarian big state regimes those are always 'good' for women because there is recruitment into the public sector.
"If you look at what happened after '89 in Eastern Europe unemployment among women went up dramatically and representation in parliament declined. The market is just less friendly to women than the public sector so the weaker the public sector, the stronger the private sector, the worst for women at least in the immediate term."
'Fault with society'
The rise of the Muslim Brotherhood to power in Egypt is the biggest lightning rod for concerns about women's rights.
Sandos Asem runs the Brotherhood's English twitter feed and she took part in the revolution from day one. She says those fears are misplaced.
"The Islamists have not ruled and corrupted Egypt for 60 years it was actually secular governments. I see an Islam that empowers women. I concur that some Islamists are very extreme in their views towards women and we think this is not right."
It is also Egyptian society more than politics that is more to blame for the string of attacks on women in Tahrir Square.
Law and order disappeared from the streets of the capital three days after the uprising began and it still has not returned.
Those 18 days in Tahrir Square, while the revolution played out, have taken on a mythical status in the minds of many. Few now want to taint their memory of the Square with the reality of today's violence.
But it may not be just remnants of the old regime who are behind these attacks but also men who once stood shoulder-to-shoulder with the women they are now attacking. Even thieves and rapists do not like living under a dictatorship.
It is important for Egyptians to recognise that perhaps a tiny minority of the people in Tahrir Square then and now may have shared the revolutions aim but they do not share its values.