Hamas executes three Gaza Palestinians for murder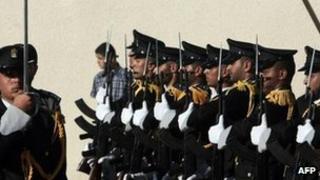 The Hamas government in the Gaza Strip has executed three Palestinian men it says were convicted of murder.
The men were identified only by their initials. No details were given about their convictions.
Palestinian law says President Mahmoud Abbas must authorise executions, but Hamas does not recognise his authority.
The Hamas' Interior Ministry said the men were executed "based on religious law and our religion and what is stipulated in Palestinian law".
Hamas has executed 14 people since it took control of the Gaza Strip in 2007.
President Abbas leads the Palestinian National Authority, but his leadership has been limited to the West Bank for the past five years.
Human rights groups have frequently condemned Hamas' use of the death penalty.
Crimes that Hamas deems punishable by death are murder, collaborating with Israel and drug trafficking.