US Gulf build-up 'signal to Iran'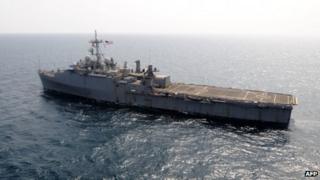 It is described by the US military as a "defensive exercise" to preserve freedom of navigation in the international waterways of the Middle East.
The International Mine Counter Measures Exercise 2012, IMCMEX 12, is broad in scope.
It will involve the militaries from more than 20 nations.
The focus will be on countering efforts by a hypothetical extremist group to mine crucial waterways in the Gulf, the Red Sea, the Gulf of Aden, and the Gulf of Oman.
The exercise though will not extend into the Strait of Hormuz, presumably to avoid raising tensions with Iran.
US spokesmen insist that the multinational manoeuvres are not intended to send a signal to Tehran. But it is hard to see any other fundamental purpose behind them.
With repeated Iranian threats to close the Strait of Hormuz unless economic sanctions against them are lifted, US military planners have been steadily building up US forces in the Gulf region with the clear intention of enhancing their ability to keep this vital sea lane open.
The fear is that if nuclear talks with Iran break down, and they are making precious little progress, or if the pressure of economic sanctions against Iran reaches a tipping point, then Tehran might seek to hit back at the West by at least disrupting vital Gulf sea lanes through which large quantities of oil reach global markets.
Mine sweepers
Not everyone is convinced that Iran would react in this way.
Any kind of naval set-to with Washington would only end in one way. The full closure of the Strait of Hormuz would harm Iran too.
Some analysts suggest that there might be more sporadic attacks and sea mines would be an obvious way in which to try to interfere with shipping routes.
Over recent months the US has slowly been bolstering its forces in the Gulf, especially its abilities to hunt and destroy mines.
The US has doubled the number of its Avenger-class mine hunters in the region to eight; it has deployed more MH-53 mine-sweeping helicopters and a large number of remotely-operated submersible mine hunters.
The German-built system, called SeaFox , relies upon what is really an unmanned mini-submarine, which can find and destroy mines. Its advantage is that it can be operated from most types of vessel, not requiring a specialist mine hunter.
Washington is also taking steps to enhance its broader military punch in the Gulf.
It has sent a converted transport ship, the USS Ponce, to the region to act as a kind of mother ship capable of housing special forces.
Two aircraft carriers are to be kept on station at all times and over recent months some of the US Air Force's most modern warplanes - the F-22 Raptor - have been training from Gulf bases.
Steps are also being taken to enhance the defences of key US allies in the region against ballistic missile attack. Reports indicate that the US is building a missile defence radar station in Qatar.
This will house a so called X-Band radar, similar to systems already deployed in Israel and Turkey.
Improved missile interceptors could also be deployed in due course to enhance the capabilities of existing Patriot missile batteries.
Rising tensions
Washington has also been giving some thought to its long term military footprint in the Gulf.
A report from the influential US Senate Committee on Foreign Relations released last month on the new " Gulf Security Architecture " pointed to the importance of continuing US access to facilities such as al-Dhafra air base in the UAE, al-Udeid air base in Qatar, Camp Arifijan in Kuwait, and the US naval headquarters and support facilities in Bahrain.
After a period of relative calm in the Gulf during which the focus was very much on diplomacy and the nuclear negotiations with Iran, we could be entering a more uneasy period.
High-level visits by US security officials to Israel are a good indicator that tensions are again rising.
Once again the spectre of Israeli strikes against Iranian nuclear facilities are being mentioned.
The US view is that the time has not come for military action and that has been communicated to the Israelis.
But the danger is that as the economic sanctions hit home against Tehran and broader tensions rise some incident, some spark, could provoke a wider confrontation in a Middle East that is already seething with chaos and uncertainty.