Israeli in new self-immolation protest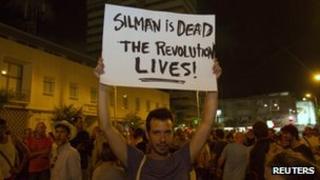 A disabled Israeli war veteran is said to be in a serious condition after setting himself on fire at a bus stop near Tel Aviv.
The man was in dispute with officials in charge of rehabilitating veterans, according to a veterans' group.
Sunday's case came hours before the funeral of Moshe Silman, who died a week after setting himself on a fire at a protest against inequality.
More than 1,000 people took part in vigils for Mr Silman on Saturday.
Israeli police say the latest case of self-immolation happened at a bus stop in Yehud near Tel Aviv.
Passers-by managed to put out the flames but the man, a wheelchair-user, suffered burns to 80% of his body.
'Human tragedy'
There have been other failed attempts to copy Mr Silman's actions in recent days.
Mr Silman, who was heavily in debt, had left a note accusing the Israeli establishment of "taking from the poor to give to the rich".
His case has produced an outpouring of emotion in Israel, the BBC's Yolande Knell reports from Jerusalem.
Prime Minister Benjamin Netanyahu called his act "a great human tragedy".
Last summer, Israel saw an unprecedented wave of protests over inequality and financial hardship, with hundreds of thousands taking part in some of the biggest rallies Israel has ever seen.
The use of self-immolation is a dramatic new departure that will ratchet up pressure on Mr Netanyahu's government to deliver on promised reforms to deal with the high cost of housing and food and improve social services, our correspondent adds.