Wave of bombings in Iraq kills at least 17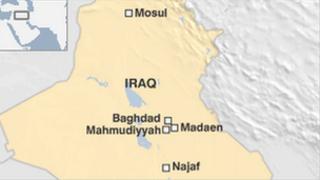 A series of bombs in towns to the south of the Iraqi capital Baghdad has killed at least 17 people and left dozens of others injured, officials say.
Two bombs hit a market in town of Madaen, killing at least five.
The city of Mahmudiyya was struck by three blasts, one of them caused by a rocket attack on a small hospital.
An earlier car bomb in the city of Najaf, which is holy to Shia Muslims, left 23 people injured, a local health official said.
Another explosion earlier in the day targeted a police station in the northern city of Mosul.
The blasts in Madaen and Mahmudiyya came as people prepared to break their Ramadan fast.
The attack in Mahmudiyya killed a policeman guarding the hospital site. Two other blasts in the town killed at least 10 people, with the second reportedly targeting police arriving at the site of the first.
"People are worried that these attacks might ignite sectarian violence again," Mahmudiyya resident Ali Kamal told the Associated Press.
The attack in Najaf was rare for a city that has been considered relatively safe in recent years, and which has seen an influx of investment and a boom in religious tourism, the BBC's Rami Ruhayem in Baghdad reports.
Last month a wave of bombings killed 84 people in the deadliest series of attacks since US troops left last year.
There has been an increase in sectarian violence across Iraq in recent months amid worsening political tensions.