Syria conflict: Victims of the 'war on childhood'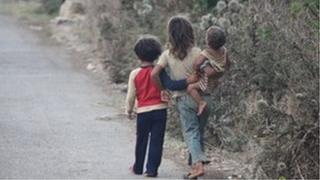 Kholoud died in the Syrian city of Homs just after she reached the age of 12. Her name in Arabic means "immortality".
"She died right in front of my eyes," recounted her best friend Randa whose family recently fled across the border to Lebanon.
Bravely fighting back tears, the 12-year-old with a long plait down her back told her terrible story.
"We were playing together," she explained with the precise detail of a child. "The bullet came through here,' she said, pointing to her cheek. "It came out through her neck. "
Kholoud may have died from indiscriminate fire. But in a report released on Monday on the 16-month uprising, the international charity War Child says young boys and girls are being deliberately targeted in Syria's war.
It calls it a "War on Childhood".
The charity says every one of six UN-recognised violations against children is being breached, including killing and maiming, recruitment of child soldiers, rape and abduction, and attacks on schools and hospitals.
Citing UN figures, it says more than 1,000 children have been brutally murdered.
Confidence building
I met Randa - a name used to hide her identity - at one of several centres run by War Child in Northern Lebanon to help children deal with their trauma.
Randa's own home was also hit in the fighting.
"A wall fell on my mother, father and younger brother. My mother said: 'Thank God they all survived'."
"Then, after Kholoud died, she decided it was time for us to go."
At the centre, known as a "child-friendly space", children do role-plays to help them build confidence and deal with conflict.
"He started picking on me," insists one boy, pointing to another child standing beside him.
Randa, playing the role of a mother with squabbling children, says: "You two should make up."
The two embrace and the children giggle and clap enthusiastically.
"When we start helping them, it's about getting their trust," explained Francisca Guzman, the project co-ordinator.
"Too many questions can keep them away from services because they fear being identified as Syrian refugees."
War Child teams visit the growing number of Syrian families fleeing the fighting to find children who may need help. Trust must be built with parents too.
'Forgotten it all'
On a Lebanese farm just outside the town of Halba, we meet Amal, a mother with seven children under the age of 11 living with her in-laws.
Her home is now makeshift tents stitched from burlap sacks on a bit of land they're renting where their livestock can also graze.
Amal's husband died just before they reached the border.
The children saw it all.
"My oldest daughter Dima saw him on the floor with blood spilling from his head," Amal said quietly, her eyes welling up with tears, as she pulls her black cloak and veil around her youngest son.
"My little son says, 'My father died alone, there was blood.' But he still says he'll come back to us."
When I ask whether its better for her children to be in Lebanon, she murmurs, "It's the same thing whether we are here or there. I don't care anymore."
Then she can't find any more words.
Her daughter Dima, a striking 10-year-old in a blue tracksuit, shakes her head when asked if she'd like to share her story.
"I've forgotten it all," she says in whispered voice.
Earlier, when War Child gathered testimonies, she found enough courage to speak.
"I wish I never saw my dad's body. I am trying to forget, but I cannot. I see his face every night. I cry but I don't let my mum see me."
'Amazing resilience'
But children, with some help, can find strength.
"Children have an amazing resilience," says Francisca Guzman.
"We try to support their inner strength and happiness. I don't think adults could cope with the situation better than they do."
I ask Randa what she wants to be when she grew up.
"A lawyer, so I can help people in prison," she replies without a moment's hesitation.
I ask why she mentions prisons.
With a child's voice and a strength beyond her years, she explains: "My two brothers went to prison. When they came out, they couldn't walk."