Stories of fear and defiance at Syrian-Lebanese border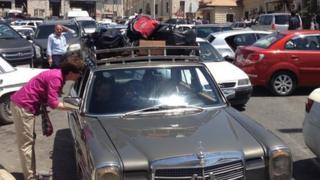 At this busy border, the ebb and flow of traffic tells a story of a people in crisis.
A week ago, as fighting escalated in the very heart of the capital Damascus, as many as 30,000 Syrians fled across the border into Lebanon in 48 hours.
Now the vehicles go back and forth, ferrying both the fearful and defiant, and those just making money out of mayhem.
We even met a Syrian accountant still making days trips to Beirut as if it was business as usual.
Some Syrian travellers support President Assad, some do not, and many just want this ordeal to end.
Everyone has their own story. Almost everyone hides their name, and some want their story kept secret too.
'Safe and strong'
You could not miss the sleek new Porsche Panamera Turbo (average price tag $100,000), making a loud statement as it raced through border formalities.
Its Syrian owner, his head smartly shaven, sped to a halt on the Lebanese side, rushed into one of the money changers, and ran back to his parked limousine.
Attempts to glean details about the purpose of his travel were met with a half-smile and a wave of a hand.
Many make similar journeys these days, in Porsches, Chrysler 300s, black tinted BMW 4x4s - all the very latest at the top end of motoring fashion.
The gleaming back seat door of one Land Rover 4x4 opened and a young voice called out, eager to convey a message.
"The soldiers are fighting with the terrorists and now everything is fine," said a striking young woman in a fashionable pink shirt.
"Syria is safe and strong with President Assad. There is no risk in going back, " affirmed her father in the front seat. He was taking his wife and family back to Damascus after their two week holiday in Beirut.
His wife in a white chiffon headscarf nodded vigorously in agreement. Then she shared her sad news - she had lost a relative in the fighting.
Doors slammed shut on a smaller car next to theirs and two passengers leapt out, clutching passports.
"It is dangerous," said one muscled young man. "The women in our family are staying in Lebanon, the boys are there in Syria."
I asked if he felt it was now safe to go back to Damascus. "What can we do?" he replied with a shrug as he rushed to the customs post on his journey back to his neighbourhood which he said was safe "sometimes".
Lost for words
You also couldn't miss the battered yellow car driving out of Syria with its rear windows without glass covered by a messy patchwork of black tape and plastic. A woman on her own, in black coat and a leopard skin patterned headscarf, slowed briefly to say hello.
"I hope God will calm everything down. That's all I can say," she said. "I pray that in this holy month of Ramadan everyone will be able to go back to their homes."
Then she removed her black sunglasses and broke down in tears. Her crutches lay across the dashboard.
Many who cross into Lebanon to escape the upsurge in violence seem at a loss for words after what they have been through.
One man, who crossed on foot with two young children, used his hands to convey that aircraft had been flying over their home. He also drew his finger across his throat, but it was not clear which side of the fighting he saw as the greatest threat.
His heavily pregnant wife then joined him. I asked her when she would give birth.
"Now," she said with a smile, as the family piled into a taxi.
In a region all too used to conflict and crisis, people are adept at surviving. Some even thrive.
"We went shopping in Damascus this morning," said one Lebanese woman, wedged into the passenger seat of an old BMW with her headscarved mother next to her and elderly aunt in the back seat. "Half the shops are shut so the prices are good."
"Isn't it too dangerous to shop?" I asked, eyeing the roof-rack packed with sports bags bulging with women's clothes.
"It's calm," she said with a wry smile, "but you can feel the tension."
Sounds of gunfire
Many vehicles rumble through groaning under the weight of goods.
Taxis are also doing brisk business. Most minivans are packed with children of all ages.
"I make one trip from Beirut to Damascus a day," said one driver. "It's $200 (£129) each way, $350 for a round trip. It takes about five hours."
The prices keep climbing.
The road has its risks. One Lebanese security source at the border told us he heard sounds of gunfire, including heavy artillery, coming from Zabadani. Two women travellers said they saw smoke rising from the town, which lies off the main highway.
By the end of this day, a Lebanese border official told us about 10,000 more Syrians had entered.
Weary travellers able to lift their eyes would first set their gaze on a huge billboard advertising a gleaming new shopping mall in Lebanon's Bekaa Valley. Decades ago, it was the scene of heavy fighting.
This war will end one day too. It's just that no-one can say now when or how that will be.