Syria intervention is more likely, says UK think tank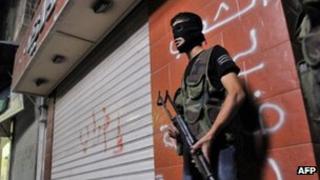 External intervention in Syria is becoming more likely, says a leading UK-based military think tank - even if Western powers remain reluctant.
Planning for possible intervention is already under way in Western capitals, Turkey and Jordan, the report says.
It is being spurred, above all, by fears of Syrian chemical weapons falling into the wrong hands.
The report comes from the Royal United Services Institute - with close ties to the UK defence ministry, say analysts.
Last week the Syrian regime was rocked by the assassinations of four of its senior officials in a bomb blast.
On Monday, US President Barack Obama warned the Syrian government against using chemical weapons, after an implicit acknowledgement by Damascus that it held a stockpile of such weapons.
'Responsibility to prepare'
The Rusi report quotes Col Richard Kemp, who led UK forces in Afghanistan, as saying the escalating civil war meant it was more likely that Western governments would intervene to stop the bloodshed spreading to neighbouring countries.
"Military planners have a responsibility to prepare for intervention options in Syria for their political masters in case this conflict chooses them," Col Kemp says in the report, called A Collision Course for Intervention.
"Preparation will be proceeding today in several Western capitals and on the ground in Syria and in Turkey.
"They will however have grave reservations over the consequences and the cost of intervention as well as the geopolitical implications."
The report suggests President Assad's own future is becoming less relevant, says BBC diplomatic correspondent Bridget Kendall.
The key issues now include:
the danger of Syria's chemical weapons being used either by desperate pro-regime commanders, or extremists allied to the opposition
the spectre of a flood of refugees
the crisis turning into a proxy confrontation between Iran and its Shia allies on one side, and Sunni governments from the Gulf on the other.
The report discounts a full scale invasion as unlikely, but concludes more limited action to protect civilians or to try to secure and destroy chemical stocks may be necessary, our correspondent says.
That could include arming opposition groups or putting together a military coalition for action.
Intervention 'already happening'
The report suggests planning for this and other scenarios is already under way.
However, Col Kemp asserts in the report that foreign intervention is already under way in Syria.
"External intervention has been under way in Syria for months, with Russia arming the regime," he says.
"At the same time Saudi Arabia and Qatar, with US and Turkish facilitation, have been arming and funding the opposition; and this covert support has been substantially responsible for the progress opposition forces have made in recent weeks.
"Western political leaders may have no appetite for deeper intervention. But as history has shown, we do not always choose which wars to fight."