US defence chief Leon Panetta visits Egypt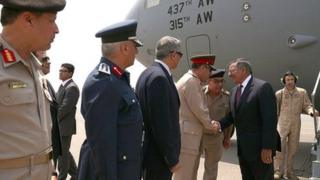 US Defence Secretary Leon Panetta has visited Cairo for his first meeting with the newly elected Egyptian President, Mohammed Mursi.
Mr Panetta's trip to the capital last October was marred by violent clashes between security forces and protesters demanding that the ruling Supreme Council of the Armed Forces (Scaf) hand over power to a civilian administration.
The generals assumed presidential powers after President Hosni Mubarak was forced to step down by a popular uprising in February 2011, to which the US gave its tacit support.
Mr Panetta's talks with Mr Mubarak's successor and the head of the Scaf, Field Marshal Mohammed Hussein Tantawi, came close on the heels of a similar trip by US Secretary of State Hillary Clinton.
This is by no means a coincidence. The Obama administration has no illusions about the shaky ground on which Egypt's newly built democracy stands.
Power struggle
Some of the factors at play in the country are cause enough for concern in Washington.
Mr Mursi, a member of the Muslim Brotherhood, which past US administrations have viewed as hostile, appears to be engaged in a tug-of-war with Scaf.
Traditional allies of the US, the generals caused widespread outrage in Egypt when they issued decrees dissolving its first democratically-elected parliament and drastically limiting the powers of the president until the new constitution is written.
Speaking at a news conference after his meetings with Mr Mursi and Field Marshal Tantawi, Mr Panetta said he had congratulated the new president and the Egyptian people on an important moment in Egypt's transition to democracy. 
He said his message to the head of the Scaf had been consistent.
"The US strongly supports an orderly, peaceful and legitimate to a democratic system of government here in Egypt."
But he added: "Field Marshal Tantawi's leadership, I believe has been critical in overseeing a peaceful, free and fair [presidential] election."
Mr Panetta said he had also spoken with both men about the continued importance of the US-Egyptian defence relationship.
The defence secretary's visit, as well as Mrs Clinton's just days before him, serves to highlight the balancing act the US is attempting to perform with Egypt.
For nearly three decades, Washington called for democracy in the region while steadfastly supporting Mr Mubarak, despite his authoritarian rule and ruthless suppression of opposition groups, particularly the Muslim Brotherhood.
Now that the brotherhood is in office through democratic elections, the US has been forced into a working relationship with the group, whose Freedom and Justice Party also dominated the now-dissolved lower and upper houses of parliament.
Regional ramifications
Of major concern to the US is the Muslim Brotherhood's public hostility to Israel.
The Israeli government is worried that the Islamist group will want to tear up the peace treaty Egypt signed with Israel in 1979, as the first Arab country to do so.
During Hillary Clinton's recent visit to Egypt, Mr Mursi provided assurances that Egypt would abide by its existing international treaties.
But it is not clear to what extent the president will co-operate with Israel as Mubarak did on matters such as the blockade of the Gaza Strip, which is governed by Hamas, a Palestinian offshoot of the Muslim Brotherhood. 
Arguably the biggest cause for tension for all three countries, though, is Iran.
Speaking in Tunisia on the first leg of his tour, Mr Panetta asked for time and patience to allow international sanctions aimed at forcing Tehran to halt uranium enrichment to have an effect. 
His words were in stark contrast to those of Israeli Prime Minister Benjamin Netanyahu, who publicly called the sanctions useless on Sunday. 
The question of how close Israel is to a military strike on Iran is still unanswered.
Mr Panetta reportedly said in February that he believed that there was a strong likelihood Israel would strike Iran in April, May or June.
Those months have gone by without incident, but sources say the possibility of such an attack is still the focus of many closed-door conversations between US leaders and Israeli counterparts. 
On Sunday, Mr Panetta said he believed that Israel had not yet decided on a strike against Iran but would not elaborate.